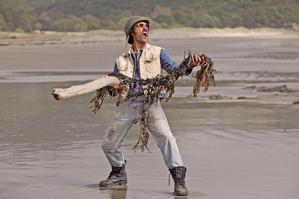 Let's get two things clear.
The first is that downloading movies and music is theft. The second is most New Zealand movie makers are not millionaires. Peter Jackson and Fran Walsh are the exceptions, not the rule.
So when you buy a bootlegged copy of Boy or Sione's Wedding, or you download a Kiwi album or film, you're taking money out of the pockets of your own people.
Being an artist in this country is a labour of love. Every cent you make is poured into the next project or into the overdraft you've taken out to survive in the down time.
Most creatives accept this. They might dream that their work will catch the eye of an American exec with a loaded cheque book, but they also dream of winning Lotto.
The reality is that it's a hand-to-mouth existence and every cent earned is hard fought and won. So I was incensed when I read that Boy, one of the loveliest films to come out of this country, has been uploaded on to the net and unscrupulous and scurrilous thieves are downloading it.
They're downloading it to enjoy the creative genius of Taika Waititi and the rest of his crew and young cast and they're doing it to avoid paying a measly 30 bucks for the DVD. What a pack of cheap low lifes.
One young caller rang me and said that he downloaded entertainment because it was so easy. Why wouldn't you do it, he said, when it's just there to be taken? That's spurious reasoning.
You could say the same of supermarkets - there they are, shelves wide open, just gagging for their goods to be taken. And yet we all know that shoplifting is theft.
Why is it so hard to understand that taking the product of someone's craft is just as much theft as taking a bag of chips is from your dairy?
I accept that the big production companies have to get with the game, as some of the more enlightened music companies have done.
Ensuring that films are available on DVD or for downloading sooner rather than later would be a start.
And adding value to their product will help boost the sales of DVDs and possibly help movie buffs resist temptation. Perhaps limited-edition posters with the DVDs, or original artworks protecting the discs.
The justifications I've heard for downloading other people's creativity are many and varied, but whatever justifications you use, just be aware that every time you download an artist's or movie maker's magic, you're stealing.
And you're making it harder for them to give us a unique reflection of our lives.