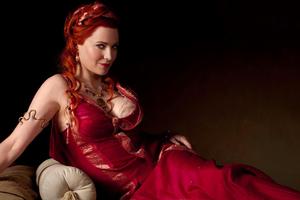 New Zealand viewers can finally see the rudest show to come out of Mt Wellington. Spartacus: Blood and Sand, the R-rated show starring Lucy Lawless will screen on Sky TV's the Box from August.
The decadent 13-part drama was produced by Lawless' husband Rob Tapert, for the United States cable channel Starz.
The series follows slave-turned-gladiator Spartacus as he leads a slave uprising from 73 to 71BC and is loosely based on the story that inspired the 1960 Stanley Kubrick movie starring Kirk Douglas.
This month it was reported that Andy Whitfield, who plays Spartacus, has beaten non-Hodgkin's lymphoma so is able to go ahead with filming of the second series.
Asked why the series has gone straight to pay television rather than Sky's free-to-air arm Prime, the head of general entertainment, Karen Bieleski, said it was better suited to the Box's audience.
Says Box channel manager Tom Fox: "Not only do we know it will be an instant hit with our loyal male viewers, but with its mix of drama, outstanding special effects and a terrific cast - not to mention rippling abs as far as the eye can see - it will be enormously appealing to women."
Spartacus: Blood and Sand screens Sundays, 9.30pm from August 22