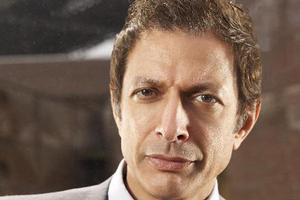 Jeff Goldblum has broken his silence over an internet hoax that he died in New Zealand.
Reports the Hollywood star had fallen off the Kauri Cliffs in Northland last year stunned fans reeling from the real death of Michael Jackson.
Goldblum, 57, said he first heard of the rumour when he received a call at home in Los Angeles from his publicist.
He said: "It was crazy. I've never even been to New Zealand. It was wild and trippy but it was also disturbing.
"And viral technology as it is, it got around the world and legitimate people reported it.
"My mother and other people I am close too, there was a gap of time before they knew whether it was true or not.
"They called up very upset, but luckily nobody ran off the road."
Appearing on British comedy show Friday Night with Jonathan Ross, Goldblum said the hoax had been the work of internet "pranksters".
The Kauri Cliffs have been the site of some of the most famous deaths never to have happened, with American actors Tom Hanks and Tom Cruise also the subject of viral deaths.
Last week Russell Crowe was forced to issue a statement after a hoax spread that he had fallen to his death in Austria.
Goldblum added: "Gossipers should be careful and check their sources."