Rating:
4/5
Verdict: Warning: you will dance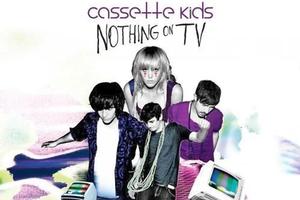 Sydney's young psychedelic foursome Cassette Kids have been picked to tour with Lily Allen, the Tings Tings and New Young Pony Club, so it's no surprise they follow the same formula of very catchy, danceable pop.
This is their first album, and the lead single Spin matches other chart-toppers from some of the most popular blond singers of the moment - but has more underground, bruised, and there's no other word for it, dirty, undertones.
While the tracks on either side of it, Insomnia and Lying Around, have a quick-enough pulse to keep dance floors sweating and choruses that find their way under the listener's skin, they also make clever use of the off-beat to prevent the pop tunes becoming anything near monotonous or grating.
Thick bass moves its way into Big Jerk as the album starts to transition from the chirpy and cutesy opening to the dark and gutsy second half. No more than in Freaky Sweetie does singer Katrina Noorbergen show her ability to switch between gamine Ting Tings-like vocals to something very mature and smouldering.
In You Shot Me she clearly channels Karen O of the Yeah Yeah Yeahs, while she takes her angst to new levels in the title track that follows - and she nails it all. Noorbergen is the star of the show, and it's clear she's going places whether or not she has the backing of the other three super-stylish dudes.