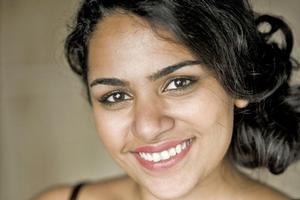 Nisha Madhan left our television screens in a coffin. Her Shortland Street character Shanti's death rattled not only her on-screen husband Scotty (Kiel McNaughton) but also her adoring fans. Magazines and online message boards saw a flow of passionate letter writers pronouncing her departure as the show's demise.
Madhan says she had no idea Shanti would strike such a chord with viewers when she was called in to play one half of a cross-cultural marriage.
"I was away when she died [on TV] so I didn't see any of the hysteria about it. I heard little bits about the message boards going crazy. And there was a lovely person who wrote in to the TV Guide saying they should bring me back as her ghost because they thought the whole show would go downhill from there. It's a strange thing. I guess she was someone people related to and I don't quite know why," Madhan says.
It's been seven months since Shanti died during childbirth, but Madhan's been making the most of life. After spending her last few days on the Street lying on an operating table or in a coffin, Madhan left for Paris - for clown school.
This wasn't one that required its performers to wear red noses and ride cycles. It was about learning to garner a laugh or smile from the audience.
Often the prickly French Maitre would call out "boring" during one of his students' attempts to be entertaining.
"He was a bit of a hard guy to please," Madhan recalls. But the lessons were invaluable in pointing her in the right direction.
"I really have a feeling that when I do theatre it's to get lots of different people in a room together, to sit together and have a communal feeling, tell a story which makes them smile or cry or laugh. I guess it's just about looking at an audience and making them feel like they aren't alone."
Since returning from France, Madhan has slipped back to her life among the artists on K Rd. She's always been passionate about developing Auckland's creative scene.
As well as playing in local afro-soul musical ensemble the Hot Grits, she has run her own small theatre company, named Phundmi, for a number of years.
She recently performed in two burlesque shows and worked on a sound installation project in Auckland's public squares that encouraged people to see the cityscape in a different light.
"I think we have to work harder in Auckland, and in a sense that's why I have never moved to Wellington," she says.
Madhan, 28, is from New Delhi but grew up in Qatar, then moved to New Zealand to attend Northcote College when she was a teenager. She studied performing arts at Unitec, where she was taught by Michelle Hine, who plays Olivia Duff's mother Carol on Go Girls and who is the driving force behind Madhan's next project.
This week Madhan and Hine appear in the hot stage production The House of Bernada Alba. They have been raising money for the production for four years - long enough for one of the cast members to fall pregnant, pull out, have the baby, and then rejoin the cast.
The play was penned in 1936 by left-wing Spanish playwright Federico Garcia Lorca, most famous for his tragedy Blood Wedding, and being executed for his political beliefs and sexual orientation.
Hine plays the matriarch, who declares a five-year period of mourning on her five adult daughters when her husband dies. "It's about being under the rule of an oppressive thumb and what that can do to you in a pressure-cooker situation," Madhan explains.
That down, Madhan is heading to Brussels to browse street theatre festivals. She may not be planning on hitting the soap operas any time soon, but you can be sure that this won't be the last time she has everyone talking.
"I hate doing nothing. If I wasn't doing something creative I would crumple in a ball and shiver," she says.
LOWDOWN
Who: Nisha Madhan
What: Local theatre production The House of Bernada Alba, which opens at Tapac tonight.