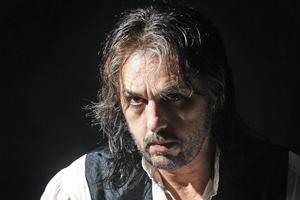 Stephen Sondheim's musical version of Sweeney Todd is a brilliant, bloodthirsty thriller that has the emotional intensity and moral discernment of a Greek tragedy.
The show opens by building sympathy for the brutally victimised Sweeney Todd, compelling the audience to identify with his coolly planned lust for revenge.
But as the demon barber wreaks vengeance on a hideously corrupt world any vicarious pleasure in the carnage quickly dissolves into a profound awareness of the futile self-destructive nature of his quest.
The disturbing power of the storytelling is matched by a musical score that has the jittery intensity of a nightmare but also finds room for moments of exquisite beauty.
Producing a musical of such complexity, with a cast of 20 and a nine-piece orchestra, is a huge achievement for a small independent company like Peach Theatre. And one senses that dealing with the logistics may have left little time to develop an artistic vision for the show.
Producer and director Jesse Peach has opted for a scaled-down version of a big-budget Broadway approach rather than crafting an interpretation that was more in line with the available resources.
But if the staging was not always as sharp as the barber's razor, Peach has assembled a superb cast and he creates plenty of space for some astonishingly powerful performances.
Seizing the dark heart of the show Ross Girven captures the haunted nature of Sweeney Todd's psychosis with a discreet nod towards Heath Ledger's Joker. Even in whimsical moments when he is celebrating the joys of cannibalistic cuisine, Girven never fails to convey the barber's obsessive devotion to his grim purpose.
The pie-maker Mrs Lovett is played with great subtlety by Lynda Milligan who manages to combine a shop-keeper's respectability with a chilling disregard for human suffering.
Michael Hurst delivers a tormented mea culpa as the wicked Judge Turpin and finds the ideal sidekick in Paul Barrett's bovver boy henchman.
The more lyrical side is nicely served by Nic Kyle's sweet tenor and Tyran Parke as the innocent, long-suffering soul who finds the courage to end the butchery.
Emily O'Hara's design stylishly evokes a gloomy Dickensian mood but the need to shift heavy set pieces feels clunky as the show races towards its blood-drenched climax.