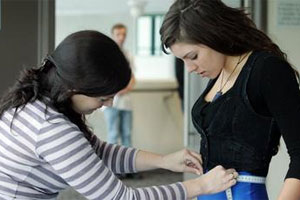 Long legs, high heels and big smiles were on show yesterday as auditions began for the second series of New Zealand's Next Top Model.
Hundreds of girls of all shapes and sizes turned out for their chance to impress the judges of the popular TV3 reality show.
Contestants were registered and measured, and those who made the grade went through to a nerve-racking meeting with host Sara Tetro, judge Chris Sisarich, executive producer Anna Lynch and Andrea Plowright, who is head booker from 62 Models.
Only those who were between 16 and 25 and at least 1.7m tall made it through to a second audition.
They chattered away, playing their guitars and teaching each other how to "smize" - or smile with your eyes.
One of those who turned up to the ASB Showgrounds in Auckland was Epsom Girls Grammar student Xaviere Murray-Puhara. The 16-year-old was told her Maori and Spanish background were a "good mix", but it wasn't enough to pass the audition.
But the next hopeful, Rhiannon Smith, from Whangarei, fared better.
The towering 17-year-old had "a beautiful face" and stood at over six foot, or 1.83m - something the judges immediately approved of.
Her confidence and conversational ability earned her a ticket to the next room.
"I'm so relieved," Rhiannon said once it was over. "I'm so pleased to get in. It was really exciting."
Frankie Gordon, a 19-year-old horticulturist, was first in the queue. After missing out in the first season, the size-12 was told she was on the cusp of being a plus-size model.
"I was too in-between, so I went away and put on some weight and now I'm a size 14," she said.'
Tetro said the panel weren't looking for any specific attributes in the models - just girls with confidence, a personality and the ability to sell themselves.
"We're not looking for a carbon copy of anybody but all models do have similar attributes for commercial reasons, and that's the same for size 10 girls and plus-size girls," said Tetro. "It's about fashion, and they've got to be able to sell."
Auditions continue today in Mangere, Auckland, then Christchurch, Dunedin and everywhere in between.