Peter Calder talks to director Riad Sattouf about teenage fantasy and the challenge of working with self-conscious actors.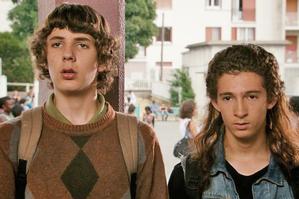 Riad Sattouf's insistence that his first feature film is not autobiographical needs to be taken with a pinch of salt.
It turns out that when he went to school in Brittany he was the only kid with an Arabic name and he was voted - two years in succession - the ugliest kid in the class.
You might think his film is a way of getting even - or at least of exorcising the pain of those years. But The French Kissers is so full of affection for his gangly, pimple-faced, awkward teenage protagonists, it seems closer to an act of benediction.
"As a teenager I certainly wanted to be someone else," says the 32-year-old. "But it's really not autobiographical, this film. As a teenager I was very shy, not as enterprising as the teenagers in the film. I spent my time drawing. It was quite boring."
Quite how enterprising his heroes Herve (Vincent Lacoste) and Camel (Anthony Sonigo) are is a matter for debate. Certainly they fancy themselves as ladykillers but it's all fancy and no action until Herve catches the one of the girls in his class.
The filmmaker admits that his teenage self had something in common with these two.
"The relationships that I had with my mates were similar. We had very high-pitched voices, ridiculous names (me in particular) and frail physiques. And I wanted to make a film about the intensity of their emotions. My teenage life was not full of big, heroic events but it still had its frustrations and I wanted to make a film about that."
In fact, Sattouf hadn't wanted to make a film at all. A highly regarded cartoonist and graphic novelist whose works include The Secret Life of Teenagers and The Book of the Virgin, he was approached by producer Anne-Dominique Toussaint, who had seen his work.
"She wanted to make a film about teenagers and suggested I might write the script."
The pair hit it off and the project was born. The resulting film, which is eye-poppingly explicit about things that teenage boys get up to which don't normally make the movies, abounds in cringeworthy but perfectly observed moments. And, given what he expected of his actors, the challenges of casting and directing must have been daunting.
"I knew I wanted to have teenagers who had done nothing before and weren't ambitious to be movie stars," he says. "So in the audition we were looking for actors who were close to the way I envisaged the characters - if Vincent and Anthony heard me saying this, they would kill me. I didn't want models, beautiful, handsome teenagers, which is what you have in American teen films. I wanted ugly ducklings, with unusual features and their own way of talking, of walking."
Once cast, the actors needed loosening up with plenty of rehearsal.
"They were very self-conscious about their bodies and so we did a lot of improvisation. At one point I had the cameraman and the director of photography join in and we all acted like monkeys, leaping around, all over each other and so on."
Nonetheless, it wasn't easy for teenagers to be told they were going to be ugly. "There was some anxiety," says Sattouf, "but when I showed them a picture of myself at their age and said that's what I looked like, it was easier. They knew we weren't laughing at them."
The film was a breakout hit in France, where it had the equivalent of a G rating (it's R16 here), but the audience was not mainly teen.
"I think the major audience has been people about my age who were teenagers in the 90s," says Sattouf. "I know many young people went to see it but most of the audience would be young adults rather than teenagers, because teenagers have a more idealistic vision of themselves than that.