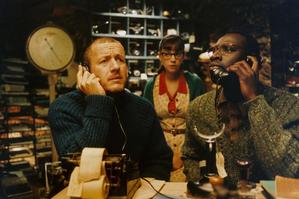 No director in recent memory has left such a distinctive mark on modern French cinema as Jean-Pierre Jeunet.
The madly whimsical Amelie, which stemmed from Jeunet's love of Montmartre where he lives, remains the most successful non-English language film in history, while his early films co-directed with Marc Caro - The City of Lost Children and Delicatessen - established the film-maker's otherworldy style.
He says his latest, Micmacs,f is a mix between Delicatessen and Amelie.
"Delicatessen had darker humour and was a little surrealistic, and Micmacs is more realistic in terms of the story," he says. "We have some jokes a bit like in Amelie - for instance when he thinks with animation it's directly from Amelie, and the story's very positive. In fact, since Amelie I prefer positive stories, because it's much more difficult to be positive than negative. It's much easier to destroy than to build."
Micmacs tells of Bazil (French comedy star Dany Boon), a homeless street performer who befriends an oddball group of artisans who live in a cave beneath a garbage dump and make art from the rubbish surrounding them.
They find a sense of purpose in helping Bazil come up with an intricate plan to destroy two big weapons manufacturers, as Bazil has twice been the victim of weaponry, first when he lost his dad as a child to a landmine in Morocco, and he also has a bullet in his head, following a drive-by shooting - and the bullet could explode at any moment.
His new friends include Mama Chow (the cook), Slammer (recently out of jail), Elastic Girl (a contortionist), and Fracasse, a human cannonball played by Dominique Pinon, who has appeared in all of Jeunet's films.
It is Boon's Bazil who holds this very eccentric film together. Certainly his click-clack language, which is part of Boon's stand-up routine, is hilarious.
"He got me cheap," Boon quips about working with Jeunet after his own directing debut, Welcome to the Sticks (in which he also starred), became the most successful film at the French box office ever.
Still, you get the impression that the unpretentious actor from humble beginnings would have worked with Jeunet for nothing.
"Oh, he would have worked with me because he loves me," smiles Jeunet. "Dany's a good guy. It's like I rediscovered a very old school friend. Everything is easy and open between us. He studied animation too, so we come from the same tradition and similar backgrounds."
Micmacs was a scaled-down affair after the extravagances of his previous big-budget epic, A Very Long Engagement. "It was very cold, we worked nights and we didn't have a lot of money ... it was a challenge."
And just as the dump-dwelling characters turn found objects into amusing gadgets, Jeunet recycled a bit of his own past - Bazil comes down a chimney into a scene with characters from Delicatessen. "I would have preferred to have made it a scene from Amelie only with babies and Mathieu Kassovitz watching television surrounded by their kids," admits Jeunet. "But Audrey [Tatou] said no, as she was shooting Coco Avant Chanel and she didn't want to do it."
And for Jeunet, Micmacs might be a farewell of sorts to another of his regular stars.
"Well, I have to find a new city, really, it's not a joke. Between Amelie, A Very Long Engagement and Micmacs I've run out of places to shoot in Paris. I love San Francisco, so why not shoot there?
"Depending on the subject, I'd like to shoot in English. My wife would like that because she's American. She speaks French with me, so we don't speak English together and that's the reason my English is so bad. If I made another film in English, it might improve."
LOWDOWN
Who: French director Jean-Pierre Jeunet
What: Latest film Micmacs
Where and when: Opens at cinemas on Thursday