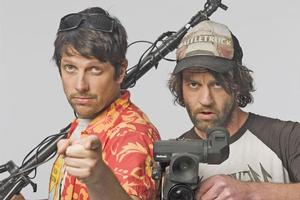 Rows between neighbours are usually nothing to laugh at but a comedian has written the voiceover script for the latest series of Neighbours At War (Monday, TV2).
This week's mucky melee took place in the small Canterbury township of Waikari - allegedly the whitest place in New Zealand - where "townies" Fern and Rocci, a medium-aged gay couple, bought a lodging house and were pursuing their dream of rural paradise.
It had all gone sour. Their place was next door to a derelict house with a yard cluttered with rusting cars, the property of neighbours Roz and "recycler" Richard. The yard, said the narrator, was worse than Afghanistan, and R'n'R's dogs were skinnier than Victoria Beckham.
Fern, a supreme moaner who should have thought ahead a bit, complained to Roz and Richard about the mess and the dogs. Then it escalated, as can so easily happen in small communities.
Fern went on to allege on camera that Roz had threatened her, kidnapped her malamute, assaulted her pet ram and herself, and nicked some chooks.
So, the narrator chuckled, there'd been an assault on a woman - and on the eye. But no charges were laid, only an egg.
We could add that viewers had also been assaulted by a cascade of cliches, but never mind. Humour is a good tool for lightening tension, but neither side in this war was willing to make any compromise.
Enter former "celebrity" cop Constable Keith, now a JP, and his talking dog Sniff (why?), to mediate. To say it didn't go well is an understatement, with Fern saying bitterly at the end that she and her long-suffering gal-pal would have to leave paradise.
Why people agree to appear on these shows is baffling because they are basically an exercise in pettiness and, no doubt, cheap to make but here we go again with almost the same scenario in Noise Control (TV3, Monday) where we learnt that last year, Aucklanders lodged 21,000 complaints about their rowdy neighbours.
The opening credits included the sound of a crowing rooster and flashing decibel graphics, featuring scary words like "party" and "dispute". There were scenes featuring party-hard dickheads in tiny apartments, including a farewell bash for a boy leaving for Oz. You could only think: sorry, Australia.
I did feel sorry for a group of pleasant young guys out in the 'burbs plagued by their Albanian neighbour who constantly complained about their backyard gatherings. The boys tried to make compromises but they looked increasingly disturbed as mega-angry Tony shouted through the fence at them, making threats and alluding to the wars he'd fought back home.
"That's what happens when you come from the Middle East," said one kid, demonstrating that his geography education had served him well. They might benefit from moving on as well. It was clear Tony was never going to stop hassling them "hard-out", as one poor kid put it. One could only admire the calmness of the noise control officers who deal with these situations, which too often defy common sense.
What a pretty picture of New Zealand these two programmes paint. Just add Bogan Family Films (C4, Thursday) and you have the complete guide to the land of idiots. Back of the Y creators Chris Stapp and Matt Heath play film-making Westies who've never completed a single project since they started making home flicks as kids 17 years earlier, thwarted by their nerdy older brother, Darryl, now a realtor in his adulthood. His younger bros may be older now but they have never grown up.
The formula is simple and stupid: dangerous driving, diving through car windows, rude jokes, religious jokes, bared buttocks, no budget, cruddy guitar licks. At least it's got a good heart.
I quite liked it.