Rating:
4/5
Verdict: Smells like a grown-up 90s rock spirit.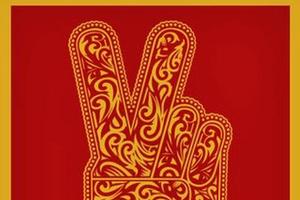 It's obvious singer Scott Weiland and guitarist Dean DeLeo are itching to get into it on Stone Temple Pilots' new album. Not surprising really, considering it's the band's first record in nearly a decade following a fraught split in 2003.
Weiland, one of modern day rock's most powerful, if temperamental singers, pipes up straight away on opener Between the Lines, singing about his three favourite things: drugs, ladies, and love. And it doesn't take long for DeLeo to crank out a wailing and pushy guitar solo.
It's a keen and fiery start to an album that is surprisingly solid given the band's rise-and-fall past.
STP started out in San Diego in the late 80s, became one of rock's biggest bands in the 90s, were scorned for being fancy-pants rip-offs of grunge-era bands and eventually they self-destructed.
Weiland joined supergroup Velvet Revolver, and when that turned bad in 2008 he hooked back up with his old band for a 70-date tour. And this self-titled sixth album is as good as anything they've done, while sounding more mature and civilised.
Much of the album has a carefree rock jaunt to it, with Cinnamon a light and breezy feel-good hit of summer and Bagman sloping along, though closer, Maver, verges on being a little too middle of the road.
But it's hard-kickers like the fuzz and distortion-drenched riffs of Hazy Daze, the searing and soaring dynamic of Take A Load Off, and slugger Huckleberry Crumble, where the band show they are still masters in the art of stylish sleaze.
Love him or hate him, Weiland is one of rock'n'roll's true problem children. Drugs have been his biggest menace, but despite how wrecked he's been over the years, he's somehow managed to maintain that voice of his. He's always enjoyed changing styles; here he lets rip with his traditional raw and husky lilt, but on Hickory Dichotomy he's like Iggy Pop-meets-deadpan Damon Albarn; on Dare If You Dare he's channelling Lennon; and First Kiss On Mars is more than just a nod to Bowie in the title as Weiland does his best Ziggy impression.
The album also has four bonus tracks, including a live version of 1994 hit Vasoline and a woozy and sweet serenade called Samba Nova.
So it's more trademark hard lizard-like rock, even if it sounds a lot more like classic rock these days.