Rating: 3/4
Verdict: Made tolerable by hot dancers doing hot moves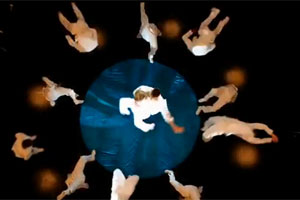 The first British film shot in 3D, and the world's first 3D dance film, Street Dance uses the technology to bring dance and cinema together in an exuberant way. While the dance performances are fabulous, it's let down by a predictable story, average acting, and its similarity to American dance flick Step Up.
Just as they did in Step Up, the opposite worlds of ballet and street dancing collide in Street Dance, when a group of street dancers gearing up for the UK Street Dance Championship are forced to recruit ballet dancers in exchange for using rehearsal space.
Both films feature similar themes about opening your mind, taking opportunities and believing in yourself, but Street Dance does carve out its own niche, not just with the 3D aspect, but in the positive way in which these characters and dance in general are portrayed.
There's a sweet, cheesy, Disney-like positivity to this film. The street dancers may be street savvy and a touch cheeky, but they're a good lot, and their style of dance (a combination of styles such as break dancing, krumping, popping, and locking) is treated with the same respect and admiration as the world of classical ballet.
Actress Nichola Burley stars as Carly, a London-based northern lass, whose dance crew falls apart five weeks out from their competition final when they are deserted by their leader - her lover, Jay (Ukweli Roach).
Delivering sandwiches to the swanky London School of Dance, Carly impresses dance teacher Helena (Charlotte Rampling), who allows her to rehearse at the school if she uses a handful of her students in the performance. The two sides clash, friendships are slowly formed, romance blossoms, and the troop are back on their way to the finals.
The cast is made up of a mixture of actors and dancers, but mostly dancers, who predictably are better dancers than actors. Though with all the dance routines there's hardly any room for character or plot development, just enough time for the ballerinas to be snobby and the street dancers stroppy.
Aimed at teens and dance lovers, the mixture of dance, music, and a good-looking cast goes some way to making up for the simplistic story and acting. The performances on the competition stage, where there's proper stage lighting, look explosive and dynamic in 3D. The dancing isn't the only aspect to benefit from the 3D technology; it also takes a cafeteria food fight to a whole new level.
Cast: Nichola Burley, Charlotte Rampling
Directors: Max Giwa and Dania Pasquini
Running Time: 98 mins
Rating: PG (Coarse Language)