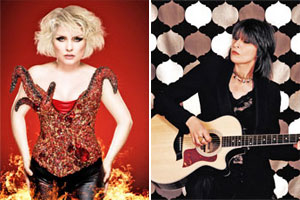 Two of music's most enduring frontwomen and their bands are heading to New Zealand for a double-bill at the end of the year.
New wave queen Debbie Harry and Blondie, and the Pretenders fronted by Chrissie Hynde, play Vector Arena on December 16, and two A Day On the Green winery shows in the South Island on the 18th and 19th.
As on their visits in 2003 and 2004, the band - also featuring founding member and songwriter Chris Stein and long-time drummer Clem Burke - will be playing in support of a new album. But also like last time, you can bet they will play late 70s and early 80s hits such as Hanging On the Telephone, Rapture and Heart of Glass.
Their new album is called Panic Of Girls and is due to be released later this year.
The Pretenders formed in Hereford, Britain, in 1978 and their biggest songs include Brass In Pocket, Back On the Chain Gang, and late 80s hit Don't Get Me Wrong.
Over the years several band members have died, some of drug-related causes, and as a result there have been numerous personnel changes with Hynde the only constant, although, the current line-up also includes original drummer Martin Chambers.
They were last here in 2007 but way back in 1984 they played the Sweetwaters Festival in Ngaruawahia where Hynde met her former husband Jim Kerr of Simple Minds.
Meanwhile, Slash has been announced as the main act at this year's G-TARanaki International Music Week from August 11-15 in New Plymouth. The former Guns N' Roses and Velvet Revolver guitarist, who has just released his debut solo album with a bunch of guest singers, will headline a concert on August 14 at TSB Stadium.
The idea behind G-TARanaki, a guitar festival which started in 2008, is to bring some of the world's best guitarists to New Zealand to educate and entertain music fans. As well as gigs, the festival has workshops, clinics and demonstrations. This year's event also features Michael Jackson's former guitarist, Jennifer Batten, who played lead guitar on the late singer's Bad, Dangerous and History tours, German guitar virtuoso Uli Jon Roth (Scorpions), bass player Tony "Funk Fingers" Levin (Peter Gabriel/King Crimson), local bands The Checks, Shotgun Alley, and In Dread Response, and many more. For more information go to gtaranaki.co.nz. Tickets from Ticketmaster.