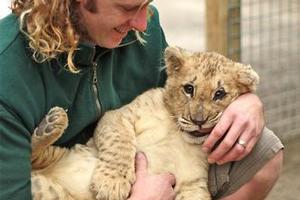 I am too much of a wuss for animal programmes. The poor creatures are forever killing each other, eating each other, mating and killing, mating and eating, fighting or being mistreated. Darwin, I know you were right and all, but I can't bear it.
If you are a sook like me you might be able to tolerate a programme like Wild Vets Sundays on TV One - wildlife for wusses. This is the second season of this successful local show which follows a group of vets who look after wild animals in sanctuaries and zoos. This is a very gentle programme, like a modern James Herriot. I half expected the vets to be wearing tweed jackets with leather patches on the elbows. Who knew they made such mild and kindly wildlife shows especially for people like me?
I am so used to everything on television these days being extreme and dramatic and loud and conflicting. It is a refreshing sorbet for the televisual palate to watch something where the most pressing concern is whether Foofi the meerkat has tooth decay, and a segment on the success of the Karori Bird Sanctuary. Even the speeches at the opening of the new animal hospital at Wellington Zoo are considered worthy of coverage.
I bet Helen Clark watches this programme in Manhattan when she needs a break from UN drudgery and wants to be reminded of the success of the kaka breeding programme.
Wild Vets does not refer to veterinarians who have outrageous double lives as pole dancers and heavy metal singers (although come to think of it, there's an idea. ) These vets are decidedly un-wild.
"There you go darling," says a wild vet to Celica the lion.
"Grrrrrrr," says Celica.
"Good boy, good boy," says a wild vet to Tundi, the African wildcat.
"That's it, honey," says a wild vet to Foofi the meerkat.
This is nature with all the "raw in tooth and claw" removed. At least that's the way it seems until we get acquainted with Cubby, the lion cub. (Wild Vets obviously pride themselves on coming up with wild names).
Cubby is so cute - being reared on the bottle and even burped by trainer Hayden - it's hard to believe that she has been rejected by her mother, lioness Luca, who is now pregnant and seems to have forgotten all her maternal instincts. This was more like the wildlife documentaries I was used to.
"He's very laid-back. What a shame his mother did this," says the wild vet, treating a hole in Cubby's cute furry ear. The fact that one of the principal animals dies in this episode after undergoing surgery rather undermines the cosy tone.
Child abuse, botched operations and dysfunctional meerkat families; maybe it is impossible to totally sanitise nature. It seems hard to make a programme about wild animals with nothing wild in it. But Wild Vets does try.