Rating:
4/5
Verdict: Quick turn-around, decent result from Jack White-led quartet.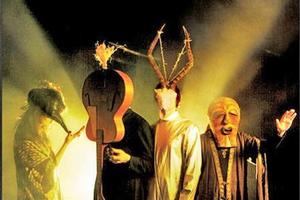 The Dead Weather previewed some of these new songs at their Powerstation show in March. Back then it was Hustle & Cuss that stood out for its trippy and heavy frenzy. And on new album, Sea of Cowards- released less than a year after debut Horehound- the song stands out again, only this time it's because it's the most delicate and spare of these sleazy stompers.
Sea Of Cowards, recorded late last year at Jack White's Third Man Studios in Nashville, is not a bold move forward but if you felt nice and greasy and writhed around to the blues-driven dirge 'n' roll of Horehound, then you'll like this.
If anything there's more squally electronic outbursts and keyboard wizardry from multi-instrumentalist Dean Fertita (Queens of the Stone Age) and songs like petrol, with its mess of squealing duelling guitars and singer Alison Mosshart at her possessed best, are certainly more rough and ready than ever before.
It's also got what the Dead Weather do best: playing and attacking their instruments with an odd mix of love and vigour, which comes through best on opener Blue Blood Blues, a dead ringer for the shouty and lurching I Cut Like a Buffalo from Horehound.
Then check out the Muse-meets-sci-fi swirl of The Difference Between Us; the album anthem Die By the Drop, a mangled din of distortion with a demented deadpan piano; and Looking at the Invisible Man is a fuzzy hoot which you can't help but chuckle and sing along to when White sings "Wave your hands in the dark, women ... you're looking at me".
The final two tracks represent two extremes on the album, with the punchy jaunt of Jawbreaker giving way to White's sole solo composition Old Mary, easily the oddest track here with his sermon-like rantings over a sparse psychedelic groove. The novelty value of their supergroup status has worn off, and now they're just a band of players all contributing equally.The result is another stroppy and tantalising slice of rock 'n' roll.