New Brit reality series Dancing On Ice gets a decidedly frosty reception from Deborah Hill Cone.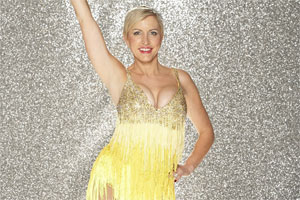 "You'd have to be very ungenerous not to be impressed with that," Kiwi export Phillip Schofield says after watching amputee Heather Mills whizzing about on Dancing on Ice without falling over.
You'd also have to be very ungenerous not to love British understatement.
There is not a lot that is subtle in the new Friday reality series Dancing on Ice, a frostier version of Dancing with the Stars yet with the bonus of greater likelihood of injury for clumsy participants.
It might be the British background in music hall which fuels the Poms' love affair with cheesy light entertainment shows but Dancing on Ice was a surprise hit and their third highest rated television show of 2006. Maybe that's why local TV programmers thought it would be a treat for us on a Friday night.
There may be a whole constituency of Dancing with the Stars fans who are suffering from withdrawal symptoms and instead of heading to bingo of a Friday may find this the perfect replacement.
Britain's ice-skating heroes and former Olympic champions Jayne Torvill and Christopher Dean help to train the B-grade celebrities who take part. In this, the fifth season of the show, the crop are hardly household names: "charity campaigner" Heather Mills, The Bill actor Gary Lucy and chef Gordon Ramsay's wife Tana are possibly the best known unless you're an avid Holby City or Hollyoaks fan.
The vibe of the show is very Donny and Marie Osmond circa 1975 - dry ice, lasers, synthesisers and sequins. It's showbusiness, innit? And the skating is less important than sporting a rictus-like grin, a thick layer of fake tan and a bit of attitude.
Former Spice Girl Emma Bunton, part of the judging panel, just wants to see the skaters "show us who they are with their own personalities".
It's all pizzazz and painted-on smiles out on the ice, but backstage the other contestants must just loathe Mills, better known as the former Mrs Paul McCartney. After all, how can you compete with a one-legged ice skater? I lost count of how many times people say she's an absolute inspiration.
"I'm so used to falling over in my artificial leg in five inch heels I know how to get back up again," Mills dribbles. Her routine shows that if you can't skate the best thing to do is just try to stand still and wiggle all your bits.
"This is the best thing I've ever done in my life," Mills says after her first routine. Not everyone agrees. The only judge who seems to want to see more than the skaters "own personalities" - Jason Gardiner - cruelly states Mills obviously never learned anything about dancing during her turn on the US Dancing with the Stars. (She was eliminated in the sixth week of competition).
Gardiner, an Australian dancer, should have his own show.
"You have hands like paddles," he tells Tana Ramsay. A bit ungenerous, really. But Friday nights watching fare like this will do that to you.
* Dancing On Ice debuts on TV One, Friday at 8.30pm.