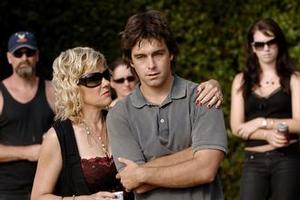 The stars of Outrageous Fortune could soon be appearing in their own spin-off series after a row about public funding.
Both TV3 and the show's creators say its runaway success meant it was unlikely to receive NZ On Air assistance for a seventh series - so they are trying to launch a new show in order to get NZ On Air funding.
The network says it can't afford to produce another series without taxpayer assistance, but reprising the show's irreverent characters in a new show might do the trick.
TV3 director of programming Kelly Martin said debates about a possible spin-off were still at an early stage.
"[A spin-off] is certainly something that has been discussed, but it's not something we are ready to discuss in any detail," she said.
"The irony of the situation is that we can go to [NZ On Air] to fund something new and it would be very open to it."
Martin said Outrageous Fortune's success had created a frustrating and "unusual" situation: "NZ On Air is taking the view that a successful show doesn't need it.
"Unfortunately, with drama this is not the case, and it is unlikely to be something we could make without NZ On Air help."
The show's co-creator James Griffin said it was increasingly likely the sixth season of the show, to air in the coming months, would be the last.
"There's certainly not any concrete plans to do anything more with it," he said.
"Once something becomes successful, NZ On Air wants the network to pay a larger share.
"But I think if there was any New Zealand programme that could sustain a spin-off, Outrageous Fortune is probably it."
NZ On Air chief executive Jane Wrightson said the answer was "sort of yes and sort of no" when asked if they are less likely to fund a successful show like Outrageous Fortune.
Wrightson said NZ on Air could not say for sure it would not fund a seventh season, because it had not received an application.
"What we have told them is that everybody adored Outrageous Fortune, including us, and it's a constant dilemma we have with successful programmes," she said.
"But in a financial climate like this we have to look at whether we can afford to give $9 million for another season. Perhaps it is nearing the end of its run."
Outrageous Fortune has received more than $48m in funding over its first six seasons - during which time it has become one of the country's best-loved TV shows.