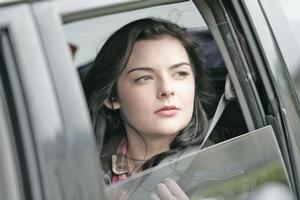 I'm probably about, oh, 100 years older than the target audience for Reservoir Hill (Sundays, TV2) and Skins (Mondays, C4), which is, presumably, teenagers - although if I had teenagers I'd let them watch one, but not the other. I'm not sure what it says about how much of a success these shows are that I liked them both.
You wouldn't want your old auntie watching these shows with you if you were, say, a 16-year-old girl - although your old auntie might be marginally preferable to your mum watching with you, which would be what we used to call "a shrink". Anything with references to sex is a shrink, when old people are in the same room.
I assume these shows are aimed at 16-year-old teenage girls, and possibly boys. They both have cute boys, and girls, in them, although in Reservoir Hill, a NZ production which started life as some interactive internet thing (don't ask me) the boys, and girls, look a bit more like real kids of that age. That means that they don't all have perfect skin and teeth and their clothes are a bit grungier than the ones, even the ones who are supposed to be poor, in Skins.
Skins is very rude (you're not watching that, young lady). I'm not sure why it has to be (oh, so that the young folk will want to watch it) because it is well written, by young people, and has actors nobody has ever heard of, and decent storylines. Well, let's not get carried away. It has decent-ish story lines revolving around sex and drugs and love and death. Angst, in other words. Nothing wrong with that. A bit of angst is good for young people. Perhaps that's why I liked it, in a misanthropic way: All those horrible young people, on the bus, with their gum chewing and their stupid conversations and the racket leaking out the sides of their heads from the sides of those enormous ear phones (you'll go deaf, do you hear me?), they will suffer. What makes adolescents suffer is love, or what they think is love and is almost always hormones, which also causes that other great adolescent angst: spots.
There are not many spots in either Reservoir Hill or Skins, but who wants to look at spotty youth, really? There's verisimilitude, and then there's ugly. So that's not really a complaint. One of the complaints levelled at Skins is that it lurches, rather, in tone, but I think it does so successfully: you might say it's tone is hormonal.
Reservoir Hill is the story of Beth who "asked for your help, and you gave it. This is the story you helped create".
The story, scripted with the help of those who responded to the interactive version, which screened on TVNZ's website last year, and which has recently won a Digital Emmy, is terrific. The digital version was too new-fangled for an old person like me, but involved viewers texting suggestions to Beth, and visiting her social networking site, to tell her what she should or shouldn't do, and, in a not at all new-fangled way, who she should be suspicious of.
This is really the equivalent of shouting "watch out, he's behind you!", and jolly good fun it is too. It has also allowed the writers to tighten any glaring holes in the script. I found myself, at one point, shouting at the telly about one such hole.
Beth goes to hospital to visit a girl. But why would she, when she caused the girl to be in hospital? Which is exactly what a character asked, even as I was shouting it.
There is a genuinely scary story line - the faceless characters in hoodies, who turned out to be the kids Beth thought were her friends, were terrifying - some very nice acting and characters you care about enough to want to know what freaky stuff is going to happen to them next - even if you have to make your way to the couch on your zimmer frame to find out.