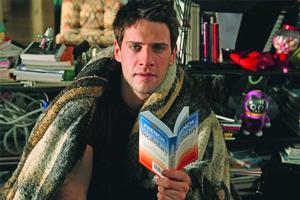 He's an American in Paris but not having a very good time of it. Justin Bartha - last seen as the missing groom in the stag night comedy The Hangover - plays a newly single guy in the French-made Every Jack Has A Jill, (also called Jusqu'a Toi and Shoe at My Foot).
His Jack is luggage-less, language-less, loveless and utterly miserable in the city that everyone promised him was filled with beauty and love.
That's until a quirky sequence of events introduces him to the feet, the eyes and then the intriguing mind of a pretty mademoiselle named Chloe. She's a self-centred hopeless romantic who has happened on his suitcase, and fallen in love with his belongings.
Bartha was contacted for the role by the French director Jennifer Devoldere. This was her first feature film, though she had directed many commercials, and she had already lined up Inglourious Basterds' Melanie Laurent as the potential love interest.
"[Jennifer] approached me, she sent me a script and flew out from Paris to meet with me. She was incredibly intelligent and had a really clear vision and I just signed on to do it because I was a little familiar with Melanie Laurent, who I thought was brilliant, I had seen her in a couple of things that were sent over and it was a great concept so I thought with some work it would be a great little movie," Bartha says.
Of course there was the drawcard of filming in Paris - which unlike his character is now Bartha's favourite city. But like his character, Bartha has very limited knowledge of the language, so struggled to get around, and often found himself hiding away in his hotel room.
Bartha, now 31, is successful, confident and focused - a far cry from Jack, who is a struggling graphic designer who would prefer to hide away from the world and languish in his emotions. But Bartha says he understands where his character is coming from, and thinks a lot of other men will too.
"Yeah I understand quite a bit, he is a man who is rendered a bit useless by the romantic side of him and doesn't quite know how to get out of his house to fulfil a fantasy of what he thinks a romance should be and what life should be. He feels spurned by a previous relationship. I think everyone can identify with not being able to move at times of their lives, and take a chance, and be proactive instead of waiting around for life to happen to them."
"I think the movie does have a fairly original point of view when it comes to the loneliness people can feel when looking for love. There's a loneliness and anxiety that I haven't seen in the portrayal of young people looking for a connection. I thought that was a very interesting aspect of the movie that I haven't seen a lot before," Bartha says.
Bartha had never worked with a first time writer or director before Devoldere - he's associated with big name movies behind him like The Hangover, National Treasure and Gigli , and has written, directed and produced his own short film - so jumped on board as a producer of Every Jack.
"I thought that although the script was pretty great as it was, there could be some nice development and it would have been interesting to develop it with Jennifer. We would work on the script sometimes but the movie itself is very much Jennifer's baby, it's her passion project."
He had just finished shooting National Treasure II when he became involved with the project, so it was a surprise to switch from an action-packed big-budget production to a funny comedy with a much thinner cheque book, but Bartha says he loved it. In fact he would love to do another French film.
"You get longer lunches and wine at lunch and cheese and the food is a lot better but otherwise it's pretty much the same. The crew of this specific movie was really unbelievably talented, and everyone was so professional at the top of their game. It was a delight to work there it was like a well-oiled machine."
As for Laurent, they had a great working relationship despite a shaky start in London, where they met when he had just finished filming National Treasure II. Laurent later confessed she was in a terrible mood for not being allowed to smoke - she was the cliche stand-offish French woman and he the exuberant American man. They didn't have many scenes together, because unlike the usual love story their characters do not meet until the end, but Bartha says he considers Laurent to be one of the most brilliant actresses he has ever worked with.
Since filming Every Jack Has A Jill in 2007, Bartha's had a run of roles in movies including New York I Love You out now, The Rebound with Catherine Zeta Jones, and a Yosef Zimmerman film Holy Rollers which has just been released in the United States.
But this year Bartha has turned his focus to the stage, and is acting in his first Broadway Theatre production Lend Me A Tenor, directed by Stanley Tucci. It's the first play he has done since Merrily We Roll Along when he was at high school in Detroit, Michigan.
"It's a different beast, for me it depends on the character and who I'm working with - so as long as those things are great it doesn't matter what medium it's in. Right now I'm enjoying doing theatre quite a bit."
LOWDOWN
Who: Justin Bartha
What: Plays Jack in French film Every Jack Has A Jill.
When: In cinemas now