Rating:4/5
Verdict: Engrossing Spanish melodrama.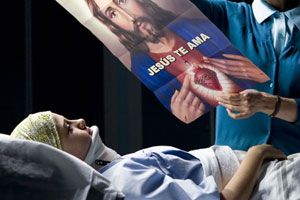 In a director's statement on this film's website, Fesser says he wants to leave "plenty of room for the spectator [without] singling anyone out or deciding who is right or wrong."
In Spain, where the controversial Catholic organisation Opus Dei was formed, such a disclaimer is probably tactically sound but it seems a trifle disingenuous: anybody who emerges from Camino thinking that religious fanaticism has not been given a solid bollocking is probably a religious fanatic.
The film, which swept the Spanish Goya awards last year, is inspired by the case of Alexia Gonzalez-Barros, a Spanish girl who died aged 14 in 1985 of cancer of the spine, and is still being considered for sainthood. We know that a similar fate awaits the 11-year-old title character (Nerea Camacho) from the first scene, in which she dies in a hospital bed, surrounded by priests and doctors. Several months earlier, she is an energetic, preternaturally pious youngster, excelling in the classroom and hankering to get into a local children's theatre production.
Not least of the attractions of the latter is the handsome young Cuco (Lucas Manzano), whose real name is Jesus (an unremarkable moniker in Spain, though the ambiguity it allows has plenty of dramatic significance later).
When the radiant Camino starts experiencing sudden back pain we are prepared for the worst in a way she and her parents (Mariano Venancio and Carme Elias) cannot be. Fesser spares us little in precisely depicting the arduous process of misdiagnosis and treatment, and deploys a potent if unsubtle array of symbols to equate her suffering with Christ's passion.
What elevates this from disease-of-the-week weepie into engrossing drama is the context: Camino's parents are members of the super-devout Opus Dei; her elder sister (Manuela Velles) is a novice-cum-maid in one of the organisation's convents; and the group is pressuring the parents to make their daughter a poster-child for unwavering faith in the face of suffering.
Fesser's lush and melodramatically heady style, which makes lavish use of CGI in dream sequences, may be a bit much for some tastes and, for all its vigorous pace, it's probably a half-hour too long. But it's crammed with ravishing visual and metaphysical touches and while it seems to me unambiguously subversive, it is by no means a simple-minded anti-Catholic rant.
Indeed in ruminating about the possibility of an unjust God it is far closer to reverent than sacrilegious. In any case it's an unusual, thought-provoking and handsome film.
Cast: Nerea Camacho, Lucas Manzano, Mariano Venancio, Carme Elias, Manuela Velles
Director: Javier Fesser
Running time: 143mins
Rating: M (offensive language, content may disturb). In Spanish with English subtitles