Rating: 2/5
Verdict: Flirty French fun, but not director's best work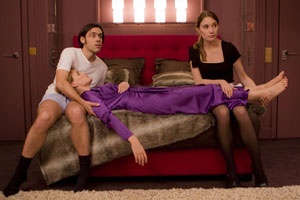 Much like last year's Shall We Kiss, director-actor Emmanuel Mouret's latest comedy is centred on the question of infidelity, although Please Please Me is a simpler and lighter film than its predecessor, both in structure and story.
When inventor Jean-Jacques (Emmanuel Mouret) admits to his live-in girlfriend Ariane (Frederique Bel) that he attempted to pick up another woman, she suggests he follows his urge and sleep with this woman (who it turns out is the President's daughter, Elisabeth), all in the name of maintaining a healthy modern relationship.
Over the next 24 hours Mouret finds he has several beautiful women falling all over him, but actually getting any one of them into bed turns out to be more challenging than he imagined.
Mouret is often described as the French Woody Allen for good reason. He writes, directs and stars in his own films, which are filled with self-absorbed characters so caught up in their own lives they're oblivious to the outside world. His films are also characterised by plenty of introspective chat and analysis of love and lust, emotion and commitment.
Please Please Me features all these traits along with plenty of slapstick comedy, making it Woody Allen with a touch of Mr Bean and Peter Sellers thrown in. It's a fun, lighthearted farce, with a nice little plot twist at the end, but without memorable or insightful dialogue it's left up to the accident-prone Jean-Jacques and his bumbling antics to provide most of the comedy.
Unfortunately Mourat doesn't quite have the comedic timing to pull off this physical comedy. His Jean-Jacques is more annoying than amusing, and the situations he finds himself in (such as getting electrocuted, a curtain stuck in his trouser zipper, and dangling out of a second floor window) are forced and flat.
Instead of providing the laughs, Mouret's slapstick performance dulls the pace of the film, and ultimately comes across as self-indulgent, especially when compared to the charming performances of his female castmates.
If you are a fan of Mouret's other work then you may find this to your taste, otherwise this instalment of his catalogue may not be the best place to begin.
Cast: Emmanuel Mouret, Frederique Bel
Director: Emmanuel Mouret
Running time: 90 mins
Rating: M (contains nudity)