Rating:
4/5
Verdict: Engrossing and multilayered thriller.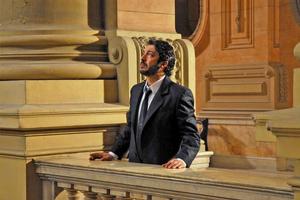 Saturated though it is in the disturbing events of Argentina's recent past, the Oscar-winner for best foreign film does not require a familiarity with the details of the 1970s "dirty war". Just knowing that it was a time of savage political repression is enough to add texture to a canny blend of love story and police procedural.
The engrossing and multilayered plot moves effortlessly between 1999 and the mid-70s. It starts as a meeting between Irene Menendez-Hastings (Villamil), a judge, and Benjamin Esposito, a retired criminal prosecutor - in the Argentine system half-cop, half-DA. These two were once colleagues and it's plain that the flame of his unrequited love for her still smoulders: it is that, as much as the crime itself, which is driving him to write a novel about a brutal murder mystery they never managed to solve.
Lack of resolution - love unspoken, murder unavenged - is thus the film's prevailing motif and the metaphorical weight of the idea is palpable: Campanella, quoted in these pages last weekend as wanting to rescue a forgotten piece of his country's history, is examining the very human predilection for turning our backs on what we must confront.
For all its surface allure as a thriller, this is a film about memory.
In both eras, Irene and Benjamin struggle to solve the brutal rape and murder of a young woman, but the state of emergency imposed by the Peronists in 1976 interrupts the investigation in the cruellest of ways. It will be some time before we are reminded that the past always comes back.
Shooting in noirish shadows and keeping close up to his characters (as if to underline the meaning of the title), Campanella shows his small-screen roots - he has helmed a lot of American television including House and Law and Order SVU.
He is also alive to the potential of bleak humour to lighten the atmosphere. Esposito's offsider Pablo Sandoval is played by a revered local comedian,, though the way matters turn out for him ensures our laughter curdles in the mouth.
The pace lags a bit in the third quarter and I thought a bravura set piece in a soccer stadium rather showy. Indeed, it's tempting to conclude that this film slipped through because of a split vote between Germany's The White Ribbon and France's A Prophet. But it's a fine piece of work on its own terms from a little-noticed corner of the film-making world.
Cast: Ricardo Darin, Soledad Villamil, Guillermo Francella
Director: Juan Jose Campanella
Running time: 127 mins
Rating: R16 (violence, sexual violence and offensive language) In Spanish with English subtitles