Rating: 2/5
Verdict: A cute idea and postcard perfect scenery are ruined by a sickly sweet script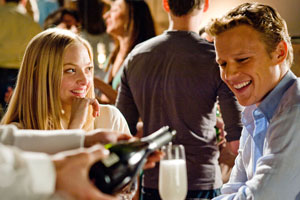 With a script lacking in imagination and a predictable plotline, Letters to Juliet is quite simply overwhelmed by romantic cliches. Predictability is expected of a romantic comedy but what's most distracting about this film are not only the terribly cheesy lines but also the awkward and stiff way they're delivered.
Amanda Seyfried, of Big Love and Mamma Mia! fame, is Sophie, a fact-checker for the New Yorker who dreams of becoming a published writer.
On holiday in Verona, home of the star-crossed lover Juliet Capulet of Shakespeare's Romeo and Juliet, she encounters the "secretaries of Juliet", a group of women who voluntarily respond to the letters left under Juliet's balcony by women seeking advice about love.
Neglected by her fiance Victor (Gael Garcia Bernal), a chef more interested in tasting the region's delicacies than spending time with his future wife, Sophie joins the secretaries, responding to a letter she finds that was hidden in the wall 50 years ago by a British woman Claire (Vanessa Redgrave).
Inspired by Sophie's response, Claire turns up in Verona accompanied by her uptight, disapproving grandson Charlie (Christopher Egan) and the three go on a mission to track down Claire's long lost soulmate Lorenzo (Franco Nero) who she left behind in Italy 50 years earlier.
Vanessa Redgrave is tender and amusing as the elderly Claire and provides some much needed gravitas, while Seyfried puts in another solid doe-eyed performance and works well with the maternal Redgrave.
The same, unfortunately, can't be said for her love interest Charlie played by Aussie actor Egan (Home and Away). His wooden, uncomfortable performance is impossible to take seriously and he ruins not only the funniest throw-away lines in the film, but also the romantic climax.
Obviously Letters to Juliet is a chick-flick, although it's hard to work out whether it's for 16-year-olds or 65-year-olds, but regardless of demographic Italophiles will at least soak up the picturesque scenery.
That and Vanessa Redgrave aside, Letters to Juliet has little else to offer.
Cast: Amanda Seyfried, Gael Garcia Bernal, Vanessa Redgrave, Christopher Egan
Director: Gary Winick
Running time: 105 mins
Rating: PG (Low level offensive language)