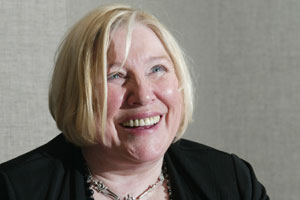 British-born author Fay Weldon, who grew up in Auckland, announced this week she has psychic powers. The 78-year-old writer said during an interview on BBC radio that she has seen ghosts since she was a small child.
She even predicted she was going to meet her second husband - musician Ron Weldon - at a party. She did. She's on to husband number three now. I'm not sure if she saw that one coming.
I am not scoffing at the gifts Weldon believes she has. Foreseeing the future is definitely not one of my specialities. Heck, I once predicted a young whimsical blonde called Pearl Going would be one to watch on the socialite scene. Look what came of that.
Weldon says her gift means she understands what goes on in other people's heads - she knows what they're thinking. She believes "writers on the whole tend to have a degree of empathy that not everybody has".
That doesn't always go for journalists. Some of the best news reporters I know are a wee bit lacking in the empathy department... okay, a lot. Their hunger for the story often supersedes the feelings of those involved.
Weldon's relationship with Ronnie broke down after he apparently left her for an astrological therapist who had told him that the couple's astrological signs were incompatible. How's that for a calculating forecast?
Yesterday I received a call from celebrity astrologer Don Murray who wanted to know - quite out of the blue - the time of my birth. He rattled off the day I was born and he said he knows that I am a twin - details, I'll admit, I found a little creepy. But he wanted the actual time I was born to give him an accurate reading of my future.
I told him, thanks very much, but I didn't much want my future read. I'm not dissing astrology, and I have nothing whatsoever against Don, but I've never much understood the world of the supernatural and celestial. I am a sceptical curmudgeon by nature and I don't foresee that changing any time soon.
I've made some bad decisions in my life and don't get me wrong, I wholeheartedly believe in hope. I, like many others, have wasted a small fortune buying lotto tickets in the hope I can run away with my many millions and escape the bitchy scene of celebrity gossip.
Don was really lovely and he took the time to explain how he believes my life is preordained. Every decision is predetermined, he said, which tends to go against my beliefs. I grew up a confirmed Catholic, but we never much went to church. I followed existentialism after a brief stint studying metaphysics at Uni and delve into books by Camus, Satre, Nietzsche and Iris Murdoch. I struggle with the concept of destiny. As for psychics - fuggedaboudit!
I have very limited experience with the world of clairvoyancy. A girlfriend once insisted I visit a fortune teller who told me I would meet a man with a short name like John, or Tim, or Mike - she couldn't be sure. I was sure I could have predicted that. I know several of each.
I once met Deb Webber and her psychic skills at the Qantas Awards, of all places. She was exceptionally emotional and she attacked Jeremy Wells, berating him, then bizarrely kissing him, all the while bawling about Eating Media Lunch's episode 'Sensing Bullshit'.
I wrote at the time that I had never seen anything like it and I presumed neither had Wells. I guessed, by her highly-charged and erratic performance, psychic Deb hadn't predicted it either.