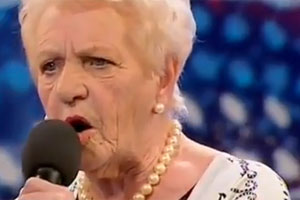 Move over Susan Boyle, there's a new singing sensation and breakout star vying to take your throne.
Meet feisty 80-year-old great-granny and gray-haired Scotswoman Janey Cutler.
Ever since TV talent show Britian's Got Talent spawned wondrous warbler and 'Hairy Angel' Boyle last year, the search has been on for a worthy successor. It looks like the answer may well lie in surprise superstar Cutler.
The grandmother of 12 from Wishaw, Lanarkshire, faced down acerbic talent judge Simon Cowell during an audition in Glasgow earlier this year, and gave an incredible rendition of French legend Edith Piaf's Non, Je Ne Regrette Rien.
Cutler has been quickly dubbed 'NuBo' because of the inevitable comparisons to Boyle, who was also, incidentally, discovered after she auditioned for the same show in Glasgow.
And like SuBo, NuBo also lives alone with her pet. But while SuBo has Pebbles the cat, NuBo has Tara, the dog.
"I'm here to sing," Cutler said during her audition.
"I like singing, my friends say, 'Go in for it, better late than never'. I've had a great life, seven kids, hard times, happy times, no regrets."
And after being helped on stage by one of the show's presenters, the plucky pensioner let rip with a stunning rendition of Piaf's signature tune. A performance judge Piers Morgan described as "spine-tingling" and "astonishing".
"I've never heard anything like it," he added.
Fellow judge Amanda Holden boomed: "I did not expect you to have a set of lungs on you like that. You're so tiny and you have such a massive voice. It was spectacular."
But while the SuBo comparisons are no doubt flattering, NuBo says she'd rather stand on her own.
She tells Britain's News of the World: "It's very flattering to be compared to Susan, as she has had incredible success. But I don't take any notice of all the fuss.
"I'd like to have that same success in my own right. But if it doesn't happen, I'll just enjoy what I can."
What a funky chicken. She's got a powerful set of pipes on her, we'll give her that!
Just goes to show you that talent will out; irrespective of how many miles you've got on the clock.
Go for it, NuBo!
Watch a video her performance here.
Plastic princess
We knew it. Despite rumours to the contrary, Heidi Montag is reportedly regretting having her body morphed into a plastic shrine.
The Hills star recently went under the knife and had all manner of things done to her body during a ten-procedure marathon.
A snitch tells Star magazine: "She cries every night. She's a wreck over what she's done to herself. She's in so much pain, she doesn't like anyone to touch her."
We're not surprised. Beauty lies within, babes.
A bulging what?
So Tiger Woods withdrew from The Players Championship on Sunday with an injury that he fears might be a bulging disc in his upper back.
But that's not quite how one TV reporter saw it...
Golf Channel reporter Win McMurry mixed up Woods' 'bulging disc' with something a tad more genital, live on air.
Golden gaffe. Priceless.
Li-Lo leaks
Wild child Lindsay Lohan has been left like a fairy with a broken wand after discovering that her new music has leaked online.
The actress/model/whatever took to her Twitter account yesterday to vent her indignant spleen.
She writes, "I don't know who, but someone keeps leaking my tracks! I can assure everyone, it is NOT me."
Yeah right.
Two tracks, one called Can't Stop, Won't Stop, and I Wanna Be Bad, surfaced online on Monday. And yes, they're both tuneless travesties (listen below).
LiLo adds, "So I've decided to do a music video rather than? let my tracks just go to waste?. need some time to choose a director and such in regards to can't stop.'" [sic]
Ta-ta Meredith?
Is Ellen Pompeo plotting her exit from Grey's Anatomy? Sure sounds like it.
Pompeo recently blabbed to Parade magazine: "I haven't said I'm moving on. I said that when my contract is up after Season 8 [in two years], I would probably not renew. I think the world has had a lot of Meredith Grey."
To be honest, after two more years we think we'll all be done with Grey's.
Blogger's Briefs
This lot just in...
* Jacko tell-all. Three of Michael Jackson's former bodyguards are shopping around a tell-all book about their old boss. The pulp alleges Jacko had not one, but two ladies on the go before he died.
* Oh look, someone wanted Whitney Houston's leftovers after all. Bobby Brown has got engaged to his manager/girlfriend. He popped the question while on stage last week. Dreamboat details here.
* TV veteran Barbara Walters is to go under the knife to replace a dodgy heart valve. "Later this week, I'm going to have surgery to replace one faulty heart valve," she says.
* Quote of the day goes to ... Sex and the City star Cynthia Nixon who describes her girlfriend as being "like a short man with boobs ... I love her butchness".
* Punk rock star Iggy Pop has been voted the celebrity with the 'worst face', according to an online poll. Poor bugger.
* Snapped: Sandra Bullock makes her first appearance after the adoption/divorce announcement
* Pop pixie Kylie films her new music video in Los Angeles. It's all very fleshy and looks a bit like a public orgy (not that we've ever clapped eyes on one of those).
* Katy Perry tops Maxim's Hot 100 list.
We need you ... again
You voted for us last year, and we blooming well won! Make this little Welshman proud and please vote for this blog again in the Net Guide Awards' Best Blog Site category. Voting closes 30 July.
Thank you!
Blogger Bites Back
* Read more celebrity news and gossip from Myrddin Gwynedd here.