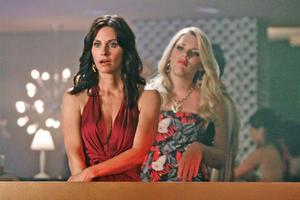 I am appalled at the fact I laughed at TV2's new series Cougar Town. I didn't want to. It looked ghastly. Even the CEO of Australia's Seven Network, which broadcasts the show, controversially described it as "sh*t".
The premise is suitably naff. It stars former Friend Courteney Cox as Jules Cobb, a recently divorced forty-something solo mother who is just getting back into the dating scene. And if you think that means there will be lots of Animal House-type jokes about boob jobs and teen libidos and women's bits being described as their "coochie coos" you'd be right. Ugh.
In the debut episode, airing this Wednesday, Jules and her ditzy blonde offsider Laurie (Busy Philipps) play a game called "Son or boyfriend?" - trying to guess whether an older woman with a younger man at a football game are dating or related.
"I'd like to lick his body," Jules says of one young athlete.
"That's my son!" says the woman in front of them. Sophisticated, it ain't. But I kept watching.
The pilot episode opens with Cox examining her naked body in front of the mirror and expressing dissatisfaction with her sagging flesh. "Crap".
From this moment on, it is clear Cougar Town will not do anything to help women of a certain age feel good about themselves. Despite the fact Cox is a gorgeous woman with a lovely figure, we are asked to buy into her self-criticism and self-loathing.
"I feel I am going to shrivel up and die if I don't get out there and do something," Jules whines. "All the men my age are either broken, gay or dating younger girls."
Double ugh. I didn't want to, but I still kept watching.
Although it is a one-note comedy - horny older woman on the prowl, watch out! - there is a darker subtext. The message behind Jules' pursuit of younger men is quite sad, nasty and narcissistic. Jules is not looking for love - she simply wants to be "hot". She embarrasses her teenage son Travis and drops her old friend Ellie for younger chum Laurie. But if the female characters come out of this as venal and vulgar, the men don't fare much better either.
Jules' ex-husband is a drop-out wannabe pro-golfer loser who calls around for his alimony cheque, then feeds his son a packet of Pringles for "dinner". All the men are loathsome: pompous and puffed-up or spivvy and lazy.
"Husbands are so stupid," Jules says. The only thing men are good for is sex - "I feel like I can see colours again," Jules says after a romp with a young man she picks up at a bar with the pick-up line "You are hot as balls".
In perpetuating repugnant stereotypes of forty-something women as hardened nymphos and men as embarrassing slackers, Cougar Town probably has done more than Mars and Venus' John Gray in putting respect between the sexes back a decade or two. But I still kept watching. Go figure.
*Cougar Town debuts on TV2, Wednesday at 8pm.