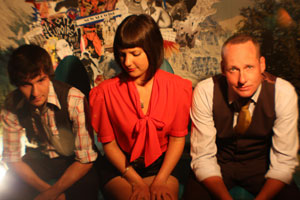 Farmer Pimp is among a growing list of New Zealand bands making music independently. The Auckland-based group could easily have taken the traditional route to putting out its debut album, Sweet Hot Pepper Pop. But instead of securing a deal with a major record company, Farmer Pimp has gone it alone.
The band's creative force, song-writing duo Mark Michel and Claire Holmes, couldn't be happier.
"It was funny because we were approached by a major label and initially we were really excited and thought, `Oh we must be really awesome that a major label likes us'," laughs Holmes, who is the band's singer.
The group called a meeting and thought about it.
"But it was, like, `Hang on, we can do this ourselves. They might make our lives easier in some ways but it's going to come out of our pockets at the end of the day. And we'll have control over it'," Holmes says.
Producer Michel adds it's amazing what independent artists and groups can achieve with the technology that's available.
And ownership is even more important, he says.
"The fact is that we could do it all in my studio and we didn't borrow any money off anybody, or get anyone else involved. We own all the masters. We own everything. It's a lot more work, but it's way more exciting."
As for the final product? Well, it's packed with sweet, hot, pepper pop, as the name suggests.
"We did take a while to get there. We were in the studio a lot and went around in circles a bit. We spent a lot of time just focusing on teeny little sounds - like a synth sound. Mark would spend all night on a drumbeat. We really got obsessed by it and we didn't see the light of day," says Holmes.
"But we're really excited that it's finally come out. Everyone has done such an amazing job."
* Farmer Pimp's debut solo album Sweet Hot Pepper Pop is out now.