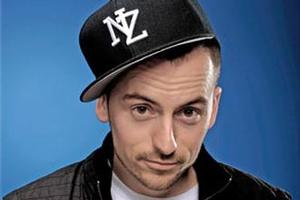 If there is one thing Peter Wadams - aka P-Money - has learned since he's been making music, it is that there are no rules.
It's a realisation that's taken him from being the young Kiwi turntablist with lightning-fast fingers who impressed at the 2001 World DJ Championships to an internationally renowned producer in less than 10 years.
For much of that time Wadams has seemingly been content as the guy mixing beats in the shadows, while those whose careers he's helped launch - think Scribe, PNC and David Dallas - have become hip-hop heroes.
But then in 2008 came Everything, the soaring dance single with Vince Harder that shot to No1 in the New Zealand charts and became "Record of the Week" at BBC Radio 1.
The song thrust the name P-Money back to the forefront of music and reminded New Zealand just how talented the guy hiding under his baseball cap and behind the turntables really was.
"It had been four of five years since I'd last made a record," says Wadams.
"In that time, musically and creatively, I'd gone a lot of different places. I'd done the hip-hop thing, and then I started experimenting and having some fun with different genres.
"Everything showed people a different side to me, which was a surprise for many. But I'd become quite accustomed to it."
Wadams' newly released third album bears the name of the track and underpins a record that has the sole purpose of making people move.
He knows he may have lost some of his hip-hop street cred by releasing an album of mainly dance and disco, but that was his intention.
"It's a fun and energetic record. I want people to dance and throw their arms up in the air and have a good time," says the Auckland-based musician.
Wadams attributes his change of tune and the courage behind stepping out of his comfort zone to fellow Kiwi musician Tiki Taane.
"I was talking to Tiki and said, 'I've got these new songs but maybe I should go with something that people will expect from me?'
"He was like, 'Bro, whatever you do, just freak them out. Go with the craziest thing you can think of and trust yourself'."
But it's a journey that has not been without its challenges.
Just making dance music alone, Wadams says, was fraught with difficulty.
"Without really knowing much about the history of the genre or what's going on locally and just going off my own taste, was a challenge. I wondered if people in that world would accept it," he says.
But accept it they have - you're now just as likely to find a P-Money track pumping from the speakers at a hard-core hip-hop club as you will flying from the decks at a frenzied dance party.
What's more he's done it alone, without the backing of a large record company, something he's incredibly proud of.
"It was really just me on my own two feet - me and my business partner.
"I made the music, put it out and the world reacted."
* P-Money's third album, Everything, is out now.