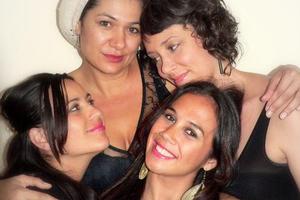 Return to celebrated play a chance for greater complexity, says Dionne Christian
When Renae Maihi got pregnant at 18, she says her family felt like many others when faced with a daughter about to become a teenage solo mother. Having always emphasised education and career, they reacted as if her ambitions were about to be permanently shelved.
But one aunt took Maihi aside and told her, "It doesn't mean you can't get to go where you want to go, it just means you have to take the long road around." Nine years on Maihi, now 27, has arrived at a place she suspects she may not have reached had it not been for son Dallas.
Her debut play Nga Manurere - The Flock has seen the former Epsom Girls Grammar student recognised as a young Maori woman playwright whose career is soaring.
"I do not know what I would have done with my life had it not been for Dallas. He put me on the right path," says Maihi, who was "discovered" at the Matariki play conference in 2008 after graduating from Te Wananga o Aotearoa with a performing arts degree.
Originally staged last year with Keisha Castle-Hughes in her first theatre production, Nga Manurere returns next week to the Auckland Performing Arts Centre in Western Springs.
Creative New Zealand funding has made a second season possible so further development work has been done on the production, which mixes traditional Maori performance arts like poi, waiata and haka with a contemporary urban story.
But Nga Manurere continues its tradition of firsts. Keisha Castle-Hughes, busy with other commitments, pursues an interest in design by creating the costumes, leaving her brother Rhys to make his own theatre debut. Maihi acknowledges the story is grounded in her own experiences of being a young Maori single mother.
"Life inspires me," she says. "I am a solo mum and in order to get through that, I needed to surround myself with other like-minded mums so we could help each other to survive. It was a juggle and a struggle but I was very fortunate to have so many close friends around me who I could relate to."
But more than sharing experiences, she wanted to challenge stereotypical and one-dimensional views of "sole flight" mothers, particularly Maori. So the women in her story are complex characters with intriguing back-stories.
Nga Manurere follows Manawa's (Nicola Kawana) journey to reconnect with the son Morehu (Rhys Castle-Hughes) she gave up through whangai, adoption within one's own whanau. Supported by friends Wai (Sera Henare), Rina (Maihi) and Jess (Lana Garland), who are all single mothers, the women are bound by friendship but each secretly has her own view on Manawa and the son to whom she is a stranger. Uncle Rongo (William Davis) is grandfather to them all and his flirtatious nature provides light relief.
"Nga Manurere means the flock so the women are the birds who have very different lives but stick together - fly together - through adversity."
Since last year's performance, chunks of the play have been refined and more depth brought to the characters. That, says director Rachel House, is the luxury afforded by getting another chance to stage the production.
"I thought it was the best first draft I had ever read because it is so real. It's about women, mums, Maori, New Zealand and it has huge heart. There are some beautifully crafted characters and it's funny and sad - all the things I like to see when I go to the theatre. I want to be moved, I like to laugh and I like to think.
"I like that this recognises diversity among a group of Maori women because we so often get generalised, especially the Maori solo mum."
Maihi says it was important that the predominantly female cast relate to the themes of her play. All have children and, with the exception of Garland, better known as TV's Food in a Minute cook, have spent periods raising their children alone.
Clearly riled by the branding of solo mums as inadequate and irresponsible, Kawana leapt at the chance to produce and appear in a play she feels presents a better-rounded and more honest portrayal. The mother of 20-year-old daughter Eden and 9-year-old son Solomon, Kawana remembers her days of juggling motherhood with studies at Toi Whakaari - New Zealand Drama School.
"The loneliness of it sticks in my mind," says the former Shortland Street and Jackson's Wharf actor. "I remember one night everyone was going to a Taki Rua [Maori theatre company] party and I wanted to go but of course, I couldn't. So there was everyone excitedly going off to party and me going home with my 2-year-old.
"In the long-term, though, that served me really well. Drama school is all about exploring who you are and being a bit self-absorbed and indulgent - in the nicest possible way - but I couldn't be like that because there was someone else who really needed me."
Garland, too, recalls the trials and tribulations of being a new mum to Manaia, 10, and Felila, 9.
"I did get quite depressed after I had my children. Part of that was because I was not fulfilling myself in a creative capacity, which was very important to me. I was 23, I'd moved to the country and I really struggled to find confidence.
"What gets you through is the unconditional love that you get from your children and you give to them."
Henare has also found balancing study, work and child-rearing testing but says when times are tough, she reminds herself it is for the greater good of providing security for and being a role model to son Turongo, 5.
"When I left drama school, I had to have a Plan B - I couldn't just go for auditions and wait for work - so I moved from Wellington to Auckland where a lot of the production houses are based. I've done a lot of work in the behind-the-scenes side of the industry but I feel really grateful to get the opportunity to go on the stage. It's like a dream to work with so many other women of this calibre telling a story of real importance."
Now writing another play, Maihi joined forces with Katie Wolfe, who directed the first season of Nga Manurere, and Tim Balme to write the screenplay for short film, Redemption.
Her goal is to keep writing and with the success of Nga Manurere that looks set to become reality. "And the other goal is for [Corporal] Willie Apiata to come along on opening night!" Maihi laughs.
PERFORMANCE
What: Nga Manurere - The Flock
Where and when: Tapac, Western Springs, May 12-22