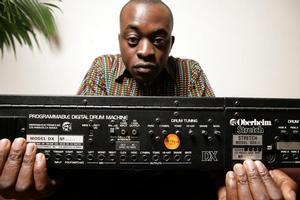 It is hard to believe that the battered iPhone Charlie Dark places on the table between us when I meet him at a jazz cafe in London still works. But then the 39-year-old spoken word poet and musician maintains there is too much impersonal interactivity in today's high-tech world, dominated by texting, file sharing and social networking sites. He has even called his upcoming limited edition book Flying Beneath the Radar.
"There really is a kind of information overload nowadays," he says. "I get bombarded with MP3s and information about people all the time but I'm more interested in the people I find by accident or have had to search to discover. I've got to the point where I don't actually like the all-access nature of things like MySpace and Facebook."
Dark takes his cue from mysterious electronic producers like Burial, whose identity was a closely guarded secret until he was nominated for the 2008 Mercury Music Prize.
"I like the fact that they have a web presence but there isn't much information on there so you really have to strive to find out anything about them," he says. "In order to find out what I'm doing you've going to have to search a bit more."
Kiwis will be able to meet Dark in person when he participates in tonight's British Council NZ-sponsored People in Your Neighbourhood show plus the Auckland Writers and Readers Week in which he'll be taking part in panel discussions, workshops and musical performances. He will also be spinning his favourite reggae records although he won't be packing any CD-Rs or plugging in his iPod. "I'm going to be playing 7 inches, I'm playing vinyl," he declares.
Dark started DJing and penning poetry when he was 13 years old. "I've always been a musician and a writer. That's always been the career I've planned. Originally they were like two separate worlds but over the last five years, I've done more collaborative stuff."
He first set out to become a hip-hop MC but growing up in the South London suburb of East Dulwich, there were no local heroes he could emulate. "At the time, it was difficult to rap convincingly in an English accent," says Dark.
"So I figured that if I wanted to be involved in this movement I was so excited by, I would either have to do it from a musical or a lyrical point of view."
In 1991, he journeyed to New York, where he was introduced to the city's burgeoning spoken word scene and witnessed hip-hop pioneers like Mos Def and Talib Kweli in action. "I went to New York to find them. I came back to England, thinking that there was this really amazing thing happening."
He started his own night Urban Poetry Society at a Brixton art gallery, which featured performances by MCs, poets, DJs, musicians and other eclectic-minded artists. "It kind of snowballed from there," he recalls.
Dark was one half of hip-hop duo Attica Blues, who released two albums in the 1990s. Much has changed since then with the likes of Dizzee Rascal and Tine Tempah topping the charts not only in Britain but also around the world.
"It's really exciting what those guys are doing," says Dark. "I moved to East London in 1999 and I lived virtually underneath [popular pirate radio station] Rinse FM's transmitter so when Grime and UK Garage exploded, I was there. It was really interesting going to schools and seeing kids reciting MC lyrics and all the brothers writing in their bedrooms. As someone who is really into words and beats, it's really exciting to hear people writing stuff that I can relate to about areas I know and in a voice I really understand."
Dark is hoping to meet some potential future collaborators during his time in New Zealand. "I've always wanted to go there because I'm really interested in the culture. I'm really looking forward to it although I'm slightly apprehensive as I haven't been there before and don't know what to expect."
He is also considering making a more permanent move. "I think it's time for a change so I'm looking at whether I could actually live in New Zealand," he says. "I like the idea that you have countryside and cities. I'm 40 in October and I feel like I'm at the crossroads of the next phase."
PERFORMANCE
Who: Charlie Dark, British poet, writer and DJ in People in Your Neighbourhood live show
Where and when: Wintergarden, Civic Theatre, tonight from 9pm
And: At the Auckland Writers & Readers Festival
Where and when: Aotea Centre, Wednesday 10am, Sunday May 16, 4pm; Poetry Idol, Monte Cristo Room, 53 Nelson St, May 16, 7pm