They are the last men standing in the first local series of The Apprentice. As Jacqueline Smith finds, Terry Serepisos has his work cut out deciding who should win.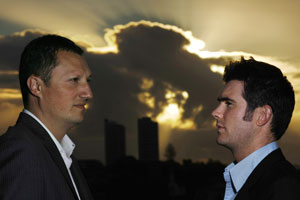 We wanted them to face off. To puff out their chests and stare each other out. To wrestle. But instead, The Apprentice New Zealand finalists David Wyatt and Thomas Ben talked to TimeOut about hanging out in the pub and the romantic burger dinner they enjoyed when filming.
Perhaps it was because our interview room lacked the cheesy boardroom music; maybe it's just what seven weeks living in close quarters does to two (very) Kiwi blokes.
But chumminess will be shoved to the side as the battle to become Terry Serepisos' right hand man comes to a head on Tuesday. Part of the prize is a nice car. So what do they drive now?
Wyatt has a little Toyota Trueno, a "sporty" car. Two doors. Silver. He has to scratch his head to think about the year, he thinks it's about 2005.
Ben has a four-wheel drive seven-seater Ford Territory, "a soccer-mum's car".
It's very comfortable. About 2007. White. It has an internal DVD player for the kids and tinted windows. Pretty pimped for a guy from Otara.
Ben's upbringing was "your classic cliche". Born one of six, to a solo mum, who herself was one of 11. She was the youngest of her brood, so was responsible for her Cook Island parents. They also lived in the small family home. His mum worked when she could, but had to catch buses everywhere. "She did [her] best, considering," Ben says.
He went to Tangaroa College in Auckland's East Tamaki. Most of the kids from his class are now police officers. He switched to Onehunga High School for his last few years, completed seventh form (now Year 13) and trained as a mechanic, then figured, "nah, getting your hands dirty all the time wasn't quite me".
So he jumped into retail, working at Auckland International Airport, and climbed the ladder from supervisor to management.
After following the deputy chief executive of the airport around over a couple of days off he decided he wanted to get into business. Aged 26, married with a baby, he cut his wage in half and took a cadetship at a paper merchant, shredding stuff and sweeping floors. Now he's been in the industry almost nine years and runs the packaging division of a rival business. A bit like David Brent really, he says.
Wyatt grew up in the East Auckland suburb of Glendowie, but was born in Palmerston North. Both of his parents are teachers - his mother has been the accounting teacher at Glendowie College for 20 years, and his dad now works in Dubai. He has an older brother; they both went to Sacred Heart College. Yes, the parents had a thumb on their sons' education.
Wyatt initially wanted to work in public relations so did a communications degree at AUT. But he realised there was a lot more money in advertising and jumped ship, starting at the Radio Bureau. He works as what he calls a "space farmer", placing ads. After 10 years in the industry he now works for himself and has been running his own Ponsonby-based company, Wy Advertising, for three years. He has two other employees.
Both Ben and Wyatt were avid fans of the US and Australian versions of The Apprentice, and made bold claims about how they would kick butt if they had been on the show. It was their partners who challenged them to put their money where their mouths were when they saw the ads calling for New Zealand contestants.
Seven weeks of filming was a huge commitment for Ben, who had to leave his wife and five kids in Pukekohe and for Wyatt, who has a partner and had to make plans to cover his business. They were allowed to call home on Christmas Day.
Otherwise, the apprentices, or "apprenti" as Wyatt insists we call them, had their own orphan Christmas.
Both wish some of the behind the scenes action would make it to television because it would show that the bitchiness of the boardroom was not an accurate portrayal of life on the set.
Sure the pressure waned on people. You couldn't go home to your partner and say "that guy, man he was a jerk" as you can in real life, Wyatt says.
"That's why it was so good behind the scenes that people could crack open a beer, have a good chicken salad and you know, relax," he says. Chicken salad was Wyatt's speciality. Ben's meals were massive. Paul made a mean fried rice. Catherine and Linda couldn't cook.
At this point in the interview I ask about their on-screen characters, and have to correct myself ... I mean television personas. It's just that Ben seems a far cry from the silent assassin who has sometimes been accused of flying under the radar. He's chatty, he laughs a lot. And Wyatt seems more of a joker than a cold-hearted snark.
"Look when you're in that boardroom you've got to defend yourself," he says in, well, defence of his on-screen antics.
And yes, the dramatic music makes a huge difference to the mood.
"When you are watching it, all you can really see is yourself and all the stuff they've edited out," Wyatt says.
This week, in an episode set in Wellington, it will be these two jovial mates ripping each other apart.
Just so you know, in reality it was quite different.
"When we went to Wellington it kind of came to a head and we went on a romantic date and dinner," Wyatt says.
Ben scoffs at the pansy reference: "We got one night of freedom, we hadn't had one for, like, six weeks and we got, a budget and they said, you've got some time and some money - you can go and see Avatar."
"Free. Time," Wyatt says, sitting back in his chair recalling those beautiful words. They didn't know what to do with themselves and ended up sprinting from the cinema to Burger Fuel as if they were on a task, Ben says.
Two versions of the show were filmed - one with Ben as the winner, one with Wyatt. On Tuesday night Big Boss Serepisos will decide which one to send to air. Why should they win?
Ben says he wants to own commercial property, so Serepisos' business will be a step into that market. He also has the right skill-set. He says he has shown he is a better fit.
Meanwhile Wyatt says: "I'm better looking than you, I smell better. No, I want it more. I'll keep it at that."
But come Tuesday, either the silver sporty Toyota or the seven-seater white Ford will be locked in the garage as its owner takes the keys of a BMW 3 Series, and heads to a luxury apartment in the capital city and a $100,000 job with the man they call "sir".
LOWDOWN
Who: David Wyatt and Thomas Ben
What: The Apprentice New Zealand finalists
When and Where: Tuesday, 7.30pm on TV2