Rating:
4/5
Verdict: Many pleasures and moments of magic.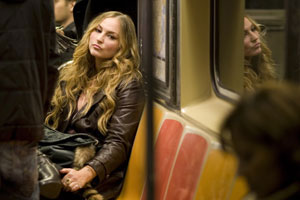 Avoiding the obvious (no Allen, Scorsese, De Niro) French producer Emmanuel Benbihy assembles some striking mainly young talents in the Big Apple for a sequel portmanteau film to Paris, Je T'Aime.
The 11 sequences, each about eight minutes long, were made under strict rules: each story had to involve some sort of "love encounter"; be set in an identifiable neighbourhood; and be shot in 48 hours and cut in a week. What's more the so-called "below-the-line" team (everyone other than directors, writers and actors) were the same for all the short films.
The result is much more engaging than the Paris film as I remember it, because it seems at once more relaxed and less ingratiating.
There's a sense of people having lots of fun: a sequence in which Ethan Hawke tries an instant streetside seduction is so exhilarating that the punchline is totally unexpected, as is the single line that Chris Cooper speaks in a film whose other characters are all native speakers of Cantonese.
New York critics who complained that they didn't see their city in the film rather miss the point that these are not documentaries, but riffs on a theme. What all the film-makers seem to understand is the importance of the twist in the tail, but they don't all use it the same way.
A cross-cultural encounter in the Diamond District between a Jain and a Jew has a conclusion that is shockingly beautiful; another story, with Caan (wonderful) as a pharmacist who's desperate for his daughter to go to the prom plays cleverly with our emotions.
The stories intersect at times but always lightly and slightly without trying to be clever.
It's a nice diversion, a cinematic smorgasbord: and with a story involving Eli Wallach and Cloris Leachman as a bickering elderly couple, it saves the best till last.
Cast: Bradley Cooper, Justin Bartha, Andy Garcia, Hayden Christensen, Rachel Bilson, Natalie Portman, Irrfan Khan, Emilie Ohana, Orlando Bloom, Christina Ricci, Maggie Q, Ethan Hawke, Anton Yelchin, James Caan, Olivia Thirlby, Blake Lively, Drea de Matteo, Julie Christie, John Hurt, Shia LaBeouf, Ugur Yucel, Taylor Geare, Carlos Acosta, Jacinda Barrett, Shu Qi, Burt Young, Chris Cooper, Robin Wright Penn, Eva Amurri, Eli Wallach, Cloris Leachman.
Directors: Jiang Wen, Mira Nair, Shunji Iwai, Yvan Attal, Brett Ratner, Allen Hughes, Shekhar Kapur, Natalie Portman, Fatih Akin, Joshua Marston, Randy Balsmeyer
Running time: 110 mins
Rating: M (offensive language, sexual themes)