Rating: 3/5
Verdict: Formulaic, but uplifting and wholesome entertainment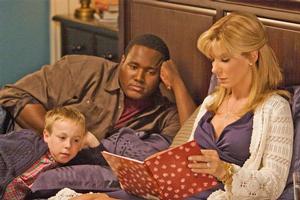 Sandra Bullock has picked up the best actress Oscar and Golden Globe for her performance here as strong-willed Tennessee belle Leigh Anne Tuohy. It is one of her best performances to date, and she alone elevates this conventional story from telemovie into a moving and surprisingly humorous film.
Based on the book The Blind Side: Evolution of a Game by Michael Lewis, and adapted by screenwriter and director John Lee Hancock (The Rookie), this is the true story of Michael Oher (Quinton Aaron). A homeless African-American teenager with a tragic upbringing, Oher is taken in by the Tuohys, a wealthy white family who encourage him to become a successful professional footballer.
From the projects in Memphis, Big Mike, as he's known, has been granted admission to a prestigious private school on the other side of town, based purely on his size and potential contribution to their football team. Failing miserably, it's not until he encounters the unstoppable Tuohy (her two kids attend the school), who supports and encourages him to improve his grades and learn how to play football, that he turns his life around.
Bullock is the force driving this film, she's sassy and funny, interfering and determined, and while Leigh Anne could be a cliche with her immaculate designer wardrobe and big sunglasses and hair, Bullock convinces us she is genuine and not afraid to go against the crowd.
The Blind Side is an uplifting, glossy, feel-good film more in the style of Erin Brockovich than, say, the gritty and realistic Precious. And while this makes The Blind Side entertaining and broadly appealing, it also makes it somewhat contrived, and the emotional impact superficial.
The real story is undoubtedly more complex than how nice and neatly it's packaged here.
Cast: Sandra Bullock, Tim McGraw, Kathy Bates, Quinton Aaron Director: John Lee Hancock
Running time: 128 mins
Rating: PG (coarse language)