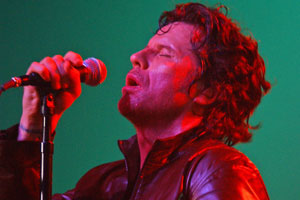 You never expect to leave a rock gig feeling embarrassed for the main act. All I can say - and it's with total respect for the sterling work you guys have done in the past - is that I really hope this tour works out for you. I really do. Just make sure you take those rewards, invest them wisely and then give it a rest.
As for whoever thought that an act whose appeal lies mostly among 35-plus post-punks, proto-Goths and Westies was going to lift the roof on a Monday night... moron. But we're getting ahead of ourselves.
There was a real sense of anticipation during the pre-match build-up. If that period stretched out a little longer than it should have, we at least got to enjoy the interpretive dance of some hippy who possibly misunderstood the nature of the Cult we were awaiting.
Everyone else was ready for a kick arse rock and roll show from a band boasting anthems tailormade for any best beer drinking compilation.
Then on rolled Astbury, and judging by the beard, hair and girth he got a lot more out of his stint with The Doors than an improved knowledge of classic rock.
So, what to say about him? Well, in his prime he possessed a righteous howl that was somehow full-throated and strangled at the same time. His sound was as unique as it was powerful and the effort it took to generate clearly caught up with him some time ago, a fact that was already clear when they last visited us for the 1995 Big Day Out.
Over the course of their show, built around their breakthrough Love album, what is left of his voice went from bull to frog. It was uncomfortable to watch him straining to rediscover the old bluster, even if he can still shake a mean tambourine.
Half his problem was the concept. Sure, Love was a crucial album in their careers; tracks like She Sells Sanctuary and Revolution freed them from their former Southern Death Cult and then Death Cult incarnations and elevated them onto the big stage. But too many of their album-mates, such as the title track, came off as dated and overblown.
Of course, it would have helped if the sound guy had remembered his bass knob. Where the bottom end required the momentum of a Mac truck loaded with bridge parts, we instead got an Austin Maxi with one old lady owner. This failure was a vibe killer when you're trying to engage those who were only there for the greatest hits package in the encore.
The more Astbury pushed to energise us, the quicker his voice crumbled and the worse his banter became. What started as rock posturing with invocations of Lucifer, ended up as desperation as he tried invoking their Maori brothers and sisters and then, cringingly, Willie Apiata in an effort to bond. At one point guitarist Billy Duffy cut him off before he started talking about the great weather we've been having.
Then, as the final chord of their main set faded, they walked off to lukewarm applause and people talking amongst themselves; no stomping; no shouts for more.
All the same, the requisite encore was duly delivered with the band doing all they could to cover the fact that Astbury's voice was MIA.
By the end of Love Removal Machine all he could offer was a tragic croak.
Please stop. Think of the children.