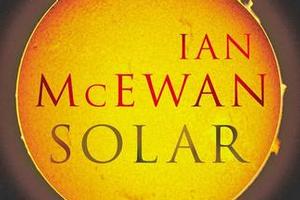 That Ian McEwan, what a comedian. It's not a phrase you come across often. At least not as often as, "Ian McEwan, what a master of devastating pathos and the unflinching observation of human nature", or "Ian McEwan, what a miserable bastard".
But in Solar, the Booker Prize-winning author is funny. And not just, sardonically amusing (though he is that, too). Solar is, in parts, laugh-out-loud funny - even slapstick funny.
That McEwan's funniest book is, at one level, about global warming is not a reflection of his personal views. He has said he finds the evidence for global warming hard to argue with. But this novel isn't as much a plea for action as it is a study of how man copes with, or ignores, impending disaster - whether on a personal or global level.
His anti-hero Michael Beard is a short, fat, ageing, greedy, balding physicist, who - possibly by good luck rather than good management - won the Nobel Prize early in his career.
With his best scientific days behind him, he is coasting on his reputation, earning a living from speaking engagements and as the head of Britain's National Centre for Renewable Energy. Beard has little time for the "ponytails" who staff the centre with their keen new science and even keener idealism. One such ponytail becomes Beard's virtual stalker, insisting his ideas on solar energy are the answer to saving the world. Beard, though, is preoccupied by the breakdown of his fifth marriage - punishment for a lifetime of philandering.
When a freak incident causes Beard's personal and professional lives to collide, his career is unexpectedly reborn.
As with most McEwan novels, you spend a good deal of your time reading Solar waiting for something bad to happen - or something worse. Beard lives in a self-absorbed state skating across the surface of life, and it is inevitable he will, at some point, hit thin ice and come a cropper.
McEwan is a master at building that dramatic tension, and it's what keeps you reading despite the fact that Beard is one of his least likeable creations. And though this is not an overtly political novel, Beard's propensity to deal with things only on the surface and turn the other cheek to actual disaster is surely some comment on the mess we find ourselves in, climatically speaking.
It is one of McEwan's most straightforward and light novels. It does not linger with you as long as an Atonement or Enduring Love, but that does not make it any less worthy, or worth the read - for the laughs at the very least.
Solar, by Ian McEwan, Random House, $38.99