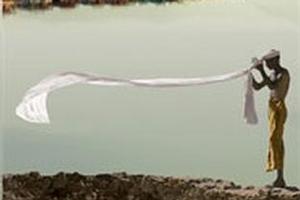 A small(ish) book of big themes, Chef is, in this sense and many others, a book of contradictions and paradoxes, a deft sketch of light and shade, of internal and external conflict. It also contains an excellent recipe for feta and tomato salad.
The novel should perhaps be called Chefs, for the two central figures are both culinary masters, counting out the chillies amidst the horror and nonsense of the seemingly endless conflict of Kashmir. The main character is Kirpal Singh, a Sikh known as Kip who, to his mother's dismay, joins the army that has only recently claimed his father's life.
His mentor and instructor is Chef Kichen, an irreverent, slightly unhinged kitchen whizz who has strong and often skewed opinions on everything from women and Beethoven to the ongoing war with Pakistan and India's rightness in the whole mess.
"I am so weak," Kip says early on, and, lacking any decent male role models, he becomes a blank canvas for Chef to paint his world view on. Kip is also spellbound by General Kumar, the latest in a series of military bunglers sent by the politicians to bring peace to this harsh and beautiful place.
Women subdue and overpower Kip, too, none more so than the beautiful Irem who seems to almost materialise out of the river from the Pakistani side.
All of this is seen through Kip's eyes as he returns to this mesmerising place 14 years on to cook "the perfect banquet" for Kumar's daughter's wedding. Kip seems to have aged 40 years in that time: the tired, defeated, slightly bitter observer of now is a far cry from the inquisitive, questioning, fumbling boy of 20. Much has changed, yet Kashmir is still beautiful and unforgiving.
Singh, a former chemical engineer who lives in Canada with but a set of short stories to his name before this highly praised novel appeared, writes with maturity, wisdom and concision. There is a mystic peace to his words, yet they are not without wit, or violence - more affecting by appearing amid such pared prose. Chef is beautifully told, the sights and smells do truly seem to pervade your senses as the pages turn. More personal than political, exquisitely detailed and deftly delivered, Chef is both disconcerting and delicious.
-Michael Larsen is an Auckland reviewer.
*Chef, by Jaspreet Singh, Bloomsbury $35.