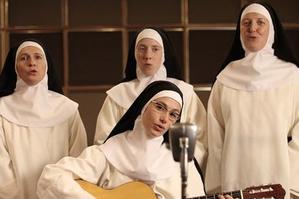 Belgian director Stijn Coninx hadn't started school when a nun from down the road in Waterloo hit the top of the pop charts in 1963 with Dominique, a song about a saint.
"I remember hearing it," he says, "and hearing people humming or singing the tune, but I didn't know what it was about."
In that regard, he was certainly not alone. Many, if not most of the millions who bought the 45rpm record, had no idea what the words meant (see box), but the bouncy "Dominique, -nique, -nique" was one of pop music's original earworms. So jaunty and jolly that it makes Julie Andrews seem like AC/DC, it rocketed into the Top 10 in 11 countries (and to No1 in the US, Canada and New Zealand).
Jeanine Deckers, aka Sister Luc Gabrielle, was the Dominican nun in question. She shot to instant fame as Soeur Sourire (Sister Smile) - though she was better known in English-speaking countries as The Singing Nun - with the song about Saint Dominic, the founder of her order.
The ditty's success and the arc of Deckers' subsequent life surely qualify her for nomination as pop's original one-hit wonder. But in his film Sister Smile, which is screening in Auckland, Coninx was keen to explore the complexity of her character.
Even after spending years on the story behind one of pop's unlikeliest hits he finds it hard to explain its success. Cultural historians suggest the turmoil of the times - the Cuban Missile Crisis, the Kennedy assassination - created a public hunger for soft, safe, melodic pop. Coninx thinks it might be love.
"When you hear Angie by the Rolling Stones, you know there is love in the air. With Jeanine it was the combination of the mystery of her being a nun and her joy in the moment of that song."
To say that things went downhill from there is something of an understatement. Frustrated that her superiors would not let her expand her musical ministry, she quit convent life and became one of many people to find that the recording industry is not one of the caring professions. Striking out on her own, she hit trouble too, particularly with a song in praise of the contraceptive pill which didn't exactly endear her to the church.
Deckers' story has been filmed before, notably in the anodyne 1966 crowdpleaser The Singing Nun, with Debbie Reynolds. The new film tells a darker tale. It hews quite closely to the facts of Deckers' life but Coninx makes no apology for the fact that his film is - as the opening titles proclaim - "freely inspired" by the reality.
"I was offered this script a long time ago and refused it for more than 10 years because I was not interested in the character they had depicted. But when Cecile de France [a Belgian-born actress] expressed interest I could see that she wanted to play the complexity of the character. I saw that she had passion for the story and it's because of her that I wanted to make the film."
The result is a character who is certainly hard to like: when the record company says they have named her Sister Smile she unsmilingly replies, "I can tell you don't know me."
But de France's Jeanine is also richly textured and conflicted. She joins the convent as an act of rebellion against her loveless home life - the film perfectly evokes the gloomy, puritanically buttoned-up world of Belgium in the 50s - and she leaves it as an act of rebellion too: a recurring image in the film is of Jeanine with guitar and suitcase walking away from something that she once wanted, but which is now restricting her.
The ending - it scarcely gives anything away to note that Deckers died in a suicide pact with her lesbian lover in 1985 - has attracted criticism for being obscure, but Coninx defends his decision to adopt a tone that is sad and tender, rather than dramatic.
"If you want a dramatic death it's all on television on a Saturday evening," he says. "To convince people to come and see a film about two women who commit suicide at the end is not easy. Apart from Thelma and Louise I don't remember having seen a lot of films that I liked that ended up with the main character committing suicide. That's why we end with a smile. We tell it exactly as it was but we do it in a totally different way."
LOWDOWN
What: Sister Smile, movie about the Belgian nun who became the Susan Boyle of the early 60s with her hit Dominique.
When and where: Screening at cinemas now.