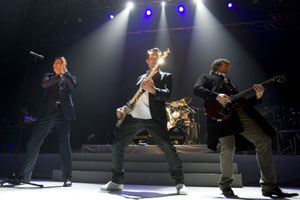 The last time Spandau Ballet singer Tony Hadley was in Auckland was in a double bill with Paul Young at the Auckland Zoo.
Last night at Vector would have seemed quite the improvement. Sold-out house. Fellow 80s Brit pop wonderboys Tears for Fears in support.
A palpable spirit of bonhomie among his reformed band, a group which ran second only in the Live Aid era to Duran Duran as the poppermost Brit band of that decade who weren't actually two haircuts and a drum machine.
And while he might have one more chin than he did then, Hadley still has quite a voice - a grand tenor which can extract two elegant syllables from previously monosyllabic words like "true" and render them as pop hooks for the ages.
Which is what he and his reunited Spandau Ballet did last night in an entertaining show, one which reminded of the pop force they were back in their day, though one which also confirmed them as a band of few musical hidden depths.
A tedious middle tract of their show felt like one failed audition for a Bond theme after another.
But they started rather neatly, after an intro of a film showing them back in their New Romantic pomp, with To Cut a Long Story Short, the first song off their 1981 debut album which reminded that they, too, were once part of a nervy post-punk movement before becoming a blue-eyed soul-funk band with a gift for wedding song ballads.
The original five-piece, augmented by some ring-ins, made smart energetic work of their short, shallow back catalogue in a two hour set, with Hadley, bass and guitar brothers Martin and Gary Kemp, saxophonist Steve Norman and drummer John Keeble all revelling in the comeback tour, one which their patient fanclub lapped up, if maybe being reminded that like many of the great pop acts of the 80s, Spandau Ballet were a singles act and they sure had some great ones. But as for the rest ... .
So too were Tears for Fears, who opened with an oddly karaoke version of their best song Mad World and then delivered a set that also reminded that despite the 80s acoutrements, they were the Sergeant Pepper's Lonely Synthesizer Enthusiast Club of their day.
Co-vocalist Curt Smith's voice seemed a little shaky throughout but cohort Roland Orzabal's still carried the likes of the anthemic Shout, which was the night's most heartfelt echo of an era.