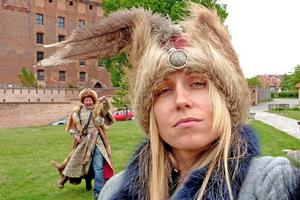 Friday night drinks? Meet me at:
I'm pining for Shanghai Lil's but Mo's Bar, cnr Wolfe and Federal, in Auckland is a worthy replacement. Reminds me of being in Havana, Cuba and afterwards I can saunter down to Food Alley for some Thai.
Where I'll be wearing my new:
Shocking Pink Adrian Hailwood dress.
And this weekend I'm planning on:
I'll be at the Tetepare Eco-Lodge in the Solomon Islands. I'm shooting my new series for the Travel Channel called The Blue Continent - we've just started shooting in the Solomon Islands and Papua New Guinea.
But first I'll need to refuel at my favourite cafe:
Santos, Ponsonby Rd for a cortado or three, fruit salad and a catch-up with my friend, Anne, the owner.
Saturday evening. If my dreams came true there would be a gig by:
Peaches. Such a spectacle! It would be my fifth time and that's nowhere nearly enough in this lifetime.
But if there's nothing else doing I'll probably just:
Be drinking wine and eating cheese with friends. I'm based in Raglan at the moment so I love having friends and family over each weekend. Always a big cook up and my new addiction Actionary - that's Pictionary with acting instead of drawing.
On my stereo/headphones right now is:
The new Massive Attack album, Heligoland. I caught their Auckland concert and was blown away.
The books I can't put down are:
Anything by Gabriel Garcia Marquez.
The TV show I take the phone off the hook for:
Breaking Bad or if I'm perfectly honest America's Next Top Model. Cycle 14 keeps me going at the moment for mindless entertainment.
The movie I've been dying to see:
Boy. Everyone's seen it but me. It's on the list for as soon as I'm back from my current shoot in the Solomons.
A non-cooking Monday night means takeaways from:
A Nam-Tok from the Isaan place, Som Tom in Mercury Plaza.
Or a splash-out Wednesday night restaurant would be:
Kura for Japanese, always something interesting and different on the menu.
* Camilla Andersen's show Julian & Camilla's World Odyssey starts on the Travel Channel on Sunday at 9.30pm.