Rating: 2/5
Verdict: Another good reason why male bonding should not take place in a hot tub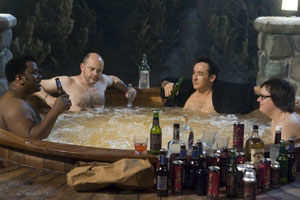 In an attempt to be this year's answer to The Hangover, Hot Tub Time Machine is another "guys gone wild" comedy, heaving with crude, raunchy jokes, OTT scenarios, manic characters and a spot of time travel.
It really is as idiotic as the title suggests. Buddies Adam (John Cusack), Nick (Craig Robinson) and Lou (Rob Corddry), along with Adam's nephew Jacob (Clark Duke), have gone to a run-down ski resort to re-live their long-lost youth. After a boozy hot tub soak they wake up to find it's 1986 and that they're back in their younger bodies - except for Jacob who hasn't been born yet.
Their first plan is to not change history by making sure they do everything exactly the way they did 24 years earlier when they were holidaying at the same resort. Most importantly, they need to make sure Jacob is conceived at some point in the near future. As the night goes on, though, the guys are distracted by the possibility of second chances at life and love, and things start to unravel.
Corddry, as the manic, divorced, sex addicted alcoholic Lou, drives the chaos from here on in.
At first his in-your-face approach is jarring, but he's the only one with the stamina to finish this film in the hyped up manner he started it, and his commitment is strangely endearing. The time travel premise is just an excuse to jump on the retro bandwagon, throw a good soundtrack together and relive every tragic fashion trend from the 80s. It's also a chance for Cusack and his buddies to relive their youth in what is really a teen comedy, albeit a rather rude one populated by adults.
While there are few laugh-out-loud moments among the general crassness, your appreciation of its humour largely depends on your tolerance of fellatio jokes.
Cast: John Cusack, Chevy Chase
Director: Steve Pink
Running time: 100 mins
Rating: R16 (Drug Use, Sex Scenes & Offensive Language)