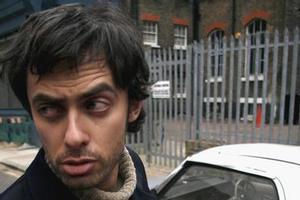 Swirling his glass of Cotes du Rhone red, Marcel Lucont seductively, arrogantly, told the audience he would treat them to a morsel of his memoirs. He reached for the hardback book - by Marcel Lucont, titled, Moi.
Marcel Lucont, aged 30, nihilist, here to talk at you. As a stereotypically haughty Frenchman Lucont had a new take on the game of picking apart the nationalities in the room.
Between the wry misanthropic observations, one of Lucont's best lines was, "If there's one thing I can't stand it's the arrogance".
Impeccable timing, flawless runs with the odd audience heckle, poetry readings and chanson make Marcel Lucont a Comedy Festival pearl.
Performing in the 7pm slot before him, Diane Spencer had also flown over from the Australian comedy circuit where, despite her engagement ring, she claimed to have been checking out an array of Aussie male goods.
Spencer has a lovely British accent and a very rude imagination. Her risque gags about impalement, ablutions and her grandmother's funeral alongside her excitable tangents about nuclear physicists and plane travel had the audience spluttering for the full hour.
The Underground's evening was topped by an interactive musical hour by the Lonesome Buckwhips, an incestuous family folk band made all the more hilarious by its ringleader's awkwardly short shorts.
Born and bred in the Southern town of Corstorphine, The Buckwhips had made the trip "overseas" to perform in the North Island.
There's Miri and Arty, who have consummated their sibling love, their petrol-sculling brother Benny and Gary, whose white eyebrows make the other three question whether he is part of their Buckapapa.
Highlights included the game of Miribingo, Gary's gyrating boy band number, and the worship song from The Church of the Latterday Buckwhips. Bloody hard case.
Who: Diane Spencer, Marcel Lucont, The Lonesome Buckwhips.
Where and when: Underground, Saturday.