Clayton's vitality and warmth as Angel mean Rent is never a drag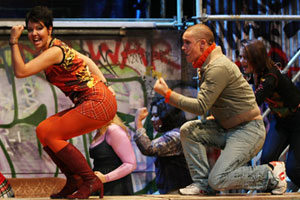 It was when the drag queen in the Santa coat started banging her drumsticks on the scaffolding, singing about sending a barking annoyance to "doggie hell" that Rent came to life. Sure, he was helped by his platform shoes, but Cameron Clayton plays with vitality, warmth and charisma, so that you care about his character, Angel, and her adoring swain Collins (an equally sympathetic Tama Waipara).
And vitality in the shadow of death is what Rent is all about. The celebrated musical adds Aids and same-sex relationships to Puccini's La Boheme mix of artists and poverty, and moves the whole shebang to New York in the early 1990s - when Aids still killed relatively quickly.
This Auckland Music Theatre production is slightly uneven - the opening is all fits-and-starts - but the songs soar and Teesh Szabo's simple choreography is original and effective. Simon Coleman's evocative, vertical set is a fitting hodge-podge of brick, scaffolding and graffitied concrete.
Under the musical direction of Grant Winterburn, the cast's strong, rich voices do justice to Rent's continuous wall of sound. Ignoring the one or two sappy, power ballads, the near three-hour show doesn't drag as it's fabulously full of catchy rock-pop numbers and satisfying harmonies. And wry lines about relationships: Mimi is looking for someone with "baggage that goes with mine".
Other characters warm up after Angel leads the way: Mark (Kristian Lavercombe) and Joanne (Annie Crummer) make the most of their comic mismatch in Tango: Maureen, and the whole cast relishes the high energy and playfulness of La Vie Boheme - look for the "Last Supper" re-enactment. New Zealand Idol alumnus Michael Murphy sings beautifully as Roger, even when he looks scared of Mimi - as well he might when she's on the hunt; sweet-voiced Rebecca Wright plays her as a desperate man-eater.
Ignore the Disneyfied ending. Instead, remember the show's "live for today" ethos, which the New Yorkers belt out - loud and proud.