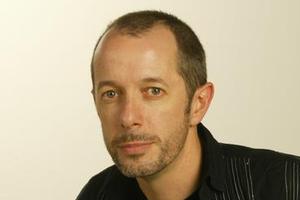 Usually playing music - music that actually means something to me - is a private affair.
But here I am standing behind the turntables on a Saturday afternoon at Real Groovy, watching my old records go round and round while people shop, queue and stare at my forlorn efforts to cue up the next track.
It's International Record Store Day. The store is buzzing. And to support the good cause, a bunch of musically minded folks - Phil Datsun, Roger Perry, Ladyhawke and more - have been invited to come along and spin the songs that most influenced them. Somehow - my mate Rob organised it and got a bit desperate, I think - I'm on the list.
Only problem is, I have never DJ-ed before. I sort of know how it works. But I have complicated things by having to run a CD player - we're not all vinyl junkies you know - along with the two turntables.
That's a lot of buttons and sliders for someone who is as unaccustomed as I am to public turntabling. I have technofear and stagefright and I am already regretting my supposedly influential choices.
Actually I've just chucked a bunch of albums, singles and CDs into a case and hoped inspiration will strike. I resolve as much as possible only to play records I actually bought as a fan rather than got later as a freebie-hogging reviewer.
Oh and great, I'm on after George breakfast guy Nick D. He's a real DJ. Pretty much the next Zane Lowe. He's playing a barrage of techno and drum'n'bass and looks cool doing it. Even knows where the headphones plug in.
Oh well, at least my old-guy 20th century set should provide a quaint contrast afterwards.
But no, as we change over he's cued up Sergeant Pepper's Lonely Hearts Club Band, an album about three times older than he is, as his last track. He's gone for A Day in The Life, a finale with a resounding final chord that demands you let it fade forever.
I am left standing wondering whether my opener, the Beatles' Rain, their best B-side and among the first songs of their druggy phase, is now a good idea. Oh well, you can never have too much Beatles and too late, off it goes and the version off last year's remastered Past Masters collection sounds terrific. It's not a particularly influential track, just everything I love about the Beatles wrapped into one song that hasn't worn out its welcome.
Next I skip a decade to The Clash's London Calling. I could just play side one of this for the rest of my set and go shopping instead. But I head to track two, Brand New Cadillac, Vince Taylor's 1950s blues rocker roughed up by Strummer and co. It sounds tinny and ancient but it's a sentimental favourite.
So is the next one, the Newmatics' Square One - the funky, frantic, swansong for the Class of 81 Auckland ska band which still sounds like a fight between Dexy's Midnight Runners and Spandau Ballet.
I'm getting the hang of this ... whoops, no I'm not. As I finish inflicting Magazine's The Light Pours Out of Me on the Real Groovy clientele, it all goes pear-shaped.
The stylus decides it would rather play the turntable mat instead of the next single. The whole shop is filled with the sound of my abject DJ failure. People are running for the doors. The sweat pours out of me. I push at buttons and finally get things back under control while Magazine play an unintended encore.
Then another hitch. My long treasured copy of The Swingers' One Good Reason looks scratched to hell.
But it's also on the definitive New Zealand early 80s compilation It's Bigger Than Both of Us which I have brought as a back-up plan.
As it climbs its staircase guitar riffs, a woman comes up to me to ask who it is. The Swingers. Oh I remember, she says and looks happy to have heard the song again 30 years on. Next, I chuck on Television's Marquee Moon, forgetting it goes on for the best part of a day.
But one twentysomething Groovy staffer comes up and shouts "cool!" and a chap more my age wanders over, asks who it is. He then says he'd come in because he'd heard I was playing, gives me a CD he had burned of something he thought I should listen to. I have. It's completely mad. But he makes my day.