Rating:
4/5
Verdict: Loved-up and ambitious soul sequel.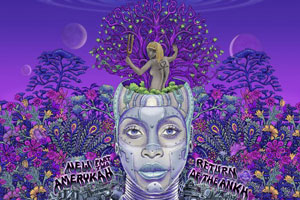 The second part of hip-hop-soul diva Erykah Badu's New Amerykah series is a far more soulful and subtle offering than 2008's 4th World War. That was one of the albums of the year, with its venting and vengeful verses, intimidating and militant beats, and a true return to form for an artist who had been less than prolific since her debut hip-hop-soul classic Baduizum in 1997.
While Part Two: Return of the Ankh lacks the same sort of punch, drama and volatility as the first instalment, its just because Badu is in a more harmonious mood. Here, the woman with the beautifully stoned but ever-so sexy lilt, talks almost exclusively about love.
Mostly, the album slinks and coos along from start to finish. There's the sugar-coated deep funk sweetness of Turn Me Away (Get MuNNY), the delicious lope of Gone Baby, Don't Be Long, where she implores you to "get your hustle on", and the catchy chorus sing-a-long of single Window Seat.
However, Badu shows her devilish oddball side with the scatty and creepy jazz of Agitation and on loopy love song Love, she comes on like a daydreaming Prince in the body of Funkadelic-era George Clinton.
But it's on three-part finale Out My Mind, Just In Time where Badu reveals the full scale of her ambitious soul vision as the song morphs from a lovely piano-accompanied vocal a la Billie Holiday into an other-worldly space waltz. This is brilliantly daring sweet soul music.