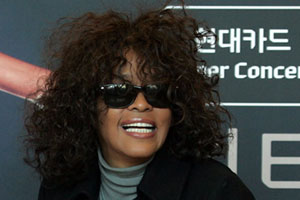 Whitney Houston, we have another problem. The ailing singer's much-maligned tour has hit another setback.
The pop diva pulled a sickie earlier this week and postponed the European kick-off of her tour in Paris on doctors' orders. Her rep said she was suffering from an upper respiratory infection.
"Whitney is suffering from an upper respiratory infection and after a consultation with her doctors has been advised to postpone her performance," a statement read.
"Whitney and her band apologise that the show has to be rescheduled on such short notice.
And the slippery slope continues...
The diva, dogged by ill health, has now cancelled the first three dates on her UK comeback tour, blaming the setback on her nose and throat problems.
Earlier reports claimed Houston had been hospitalised in Paris, but a statement from her rep suggests otherwise.
"Doctors visited Whitney late last night in Paris and confirmed that she was suffering from an upper respiratory infection.
"Upon medical advice, Whitney has been advised that she cannot perform to allow her time to recover."
Houston's comeback tour has been marred by a sea of problems. Her gigs in Australia were widely panned, with fans and critics alike criticising the I Will Always Love You singer's seemingly shot vocals.
Fans complained of a beleaguered Houston sweating and struggling to hit notes, appearing breathless, disorientated and exhausted.
The negative reviews forced her rep to issue a statement, saying: "Whitney is in great health and having a terrific time on her tour and with her fans.
"Her fans were dancing and singing along with her and Whitney appreciates their support."
And Houston's promoter Andrew McManus blamed Houston's lackluster performance on her fag habit.
"Whitney smokes. God bless her, I can't tell her not to. She will not take any substances. She just will not. It is what it is," he said.
"She's comfortable with the show she's performing. She knows she's not hitting every note like she used to. But it's value for money, it's Whitney Houston warts and all."
Come on Whitney, prove the critics wrong and pull a blinder for us, babe. You can do it.
Whitney who?
And while Whit-Whit takes the weight off her stilettos and convalesces, a star is born.
Take note of the name Lin Yu Chun. Trust us, you're going to be hearing a hell of a lot more about him soon.
Taiwanese Chun has become something of a YouTube superstar, thanks to his pitch-perfect rendition of Houston's I Will Always Love You on TV show Super Star Avenue.
The guy nails it! Amazing.
The Susan Boyle comparisons are inevitable, but we think this guy's in a league of his own.
Interesting to note, much like the reaction to Boyle's debut, the audience laughed when Chun said he was going to sing a popular tune, seemingly out of his reach...
Watch a clip of his stunning performance here.
Who's laughing now?
Blogger Bites Back
* Read more celebrity news and gossip from Myrddin Gwynedd here.