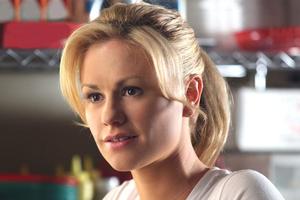 The 27-year-old actress - who is engaged to her 'True Blood' co-star Stephen Moyer - reportedly revealed she is bisexual during the secret recording of a Public Service Announcement (PSA) on behalf of the True Colours Fund, an organisation dedicated to fighting for equal rights for all, regardless of their sexuality.
In the clip - which was recorded on January 30 but has not yet been aired in public - the actress said: "I'm Anna Paquin. I'm bisexual and I give a damn."
Sources on set told RadarOnline.com that Anna's revelation came as a surprise to everyone.
The 'Give A Damn' campaign being run by the organisation launches today (01.04.10) and also features endorsements from Sir Elton John, Cynthia Nixon, Whoopi Goldberg and Sharon and Kelly Osbourne.
Anna recently admitted she was "surprised" to have fallen in love with Stephen after they worked together on the US vampire drama series.
She said: "Put it this way, I don't think anyone knew before we did. Clearly there was a reason we were cast in that particular combination but... it's not like either of us were looking for love or anything trite like that. It wasn't something we saw happening."
- BANG Showbiz