Rating: 3/5
Verdict: Count on the Aussies to produce quality bozo rock.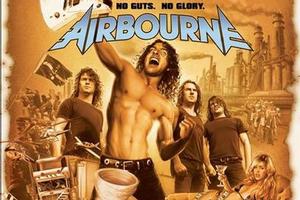 Still sounding like AC/DC, with hints of Iron Maiden and Motorhead, and a small dash of sweaty Australians, Cold Chisel and the Angels. That's Airbourne for you. They are unashamedly more pub rock than original pub rockers AC/DC themselves. Only not as good because, for starters, they've only been doing this music thing since 2003, and also, if it wasn't so derivative of Acca Dacca it might be more appealing.
The thing is, this four-piece led by brothers Joel and Ryan O'Keeffe, do what they do well. And while they're big across the Tasman, they're also popular here with this album debuted in the top 10 and is still hanging tough.
About the only thing that's changed on second album No Guts. No Glory from debut Runnin Wild is they're fired up on whiskey rather than beer because they can afford the hard stuff now.
They trot out hooting and howling songs like No Way But the Hard Way and Blonde Bad and Beautiful ("upstairs and downstairs she's got it all") at will, but Raise the Flag stands out for its thigh-slapping groove, fist-pumping rock'n'roll defiance, and an impressively over-the-top guitar solo.
While it's a little on the bozo side, Airbourne play straight ahead, ballsy, and beer (and whiskey) drinking party music. It's nothing more, nothing less, and by the sounds of It Ain't Over Til It's Over they are quite happy for it to stay that way.