When:
Sunday, 7pm
Where: TV One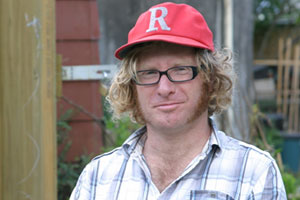 His hit 2008 television show Off The Radar tracked his big move from the city to a sustainable paddock, and in this series he moves back to the burbs. Over one growing season he will attempt to turn a ramshackle quarter-acre block in Grey Lynn into a clean, green and useful machine.
"Less cows, more chickens, and theoretically more time to potter about," he chirps.
But, as he takes viewers on a tour of the property, it's clear Radar - Andrew Lumsden to his mum - is not going to have as much time to sit back and enjoy a beer as he had hoped.
Knots of weeds reign supreme on this neglected patch, and seem to have firmly quashed any useful plant's chances of survival. A deflated Te Radar admits there is no sign of anything to satisfy his culinary prowess. Well, not until he brings his chickens across with him, which prompts Te Radar to throw on his teacher hat and explain the chicken and egg conundrum.
As well as adding his own quips and life lessons to the show, Te Radar bumps off in his clapped-out truck to have a yarn with the locals, gathering skills to build, brew, fix, cook and create eco-gadgets and money-saving items.
This episode, we meet the local biofuel men who work to have his truck running on the smell of an oily takeaway.
"Radar's Patch proves gardening isn't simple, and all of those people who felt professional gardeners on TV made it look too easy will breathe a sigh of relief when they see me proving that.
"They can then go about their gardening merrily growing things that bugs eat and mildew kills. I also learnt it is possible to have too many apple cucumbers," he says.
Te Radar, unlike other gardeners who have taken the Sunday slot over the years, makes gardening look just as difficult as every well-meaning Kiwi with shrivelled tomato plants and a pest-ridden herb box on the porch claims it is.