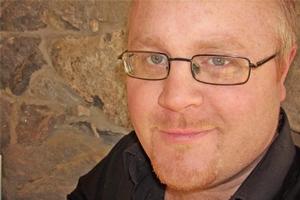 Irish writer Derek Landy never set out to create a best-selling children's series. But while the Chaos Walking author penned adult novels before turning his hand to teen fiction, the Dublin-based 36-year-old provided the screenplays for two independent Irish films before the idea for Skulduggery Pleasant occurred to him one night in a London hotel.
"I never really planned it," he admits. "I did plan to move from movies to books at some stage but I always assumed that I would write crime stories, which is the kind of books I read. But when I first thought of Skulduggery, it was immediately apparent that this was a book for younger readers and if I tried to shoehorn it into my usual genre and age group, then it would have been wrong."
However, Landy was able to put everything he admires about thrillers into the ghoulish private eye's otherworldly adventures.
"The fact that he's a detective means I can live out my crime writer fantasies through Skulduggery," he says. "He's got the hat and the gun but the main attraction of the crime genre is the dialogue, which is the best there is.
It's fast and punchy so the chance to partake in it has always been completely irresistible. Dialogue has always been the main aspect of my writing since I first taught myself how to write scripts."
He attributes his penchant of snappy lines to his stammer, which he has had since he was 3 years old.
"I was talking to my mother about it the other day and she not only puts my affinity for dialogue down to that but also the fact that I love writing," recalls Landy. "It taught me to appreciate the written word at a much earlier age."
Restless by nature, Landy thrives on the opportunities that fantasy and science fiction present for incorporating elements from other genres into their stories.
"You can draw inspiration from absolutely anything," he says. "When I first started writing Skulduggery, I hadn't written a book before so I didn't know how to structure it. I'd get to about 30 pages and then my enthusiasm would flag. So the only way I could give the character the attention he was due was to pack the book full of absolutely everything I adore. So there's a gigantic dollop of crime novels in there and some tough guy banter, but it also has martial arts, magic and murder. It wasn't a conscious effort on my part to appeal to as wide a demographic as possible, it was simply to keep myself interested."
Landy has also grounded the series in the real world, basing Skulduggery's constant companion Stephanie, who becomes the warrior-like Valkyrie, on a close friend.
"Teen books can get quite far out, so I realised that if she was inspired by a real-life person then I could always go back to the source to give the story a consistency of character," he explains. "The relationship is a lot of fun to write. I see them as kind of soulmates, not in a romantic sense but they are people who were meant to be together. It's an interesting relationship to write and to watch evolve."
Beginning with Skulduggery Pleasant in 2007, the series will eventually comprise of nine novels, which break down into three distinctive trilogies. "I've almost finished the fifth book, which leaves me with four to go," reveals Landy.
"I generally know what each book is about but not all the details are filled in. I know what happens in the last book but I don't know whether it will have a happy or a sad ending or who lives and who dies."
According to Landy, each instalment has its own unique identity.
"Skulduggery Pleasant is adventure and the second one, The Faceless Ones is a monster movie while the third, Playing With Fire, is a detective story," he explains. "The fourth, Dark Days, is basically about revenge. I've always wanted to write a book purely about revenge because there's no motive that's more pure than vengeance."
Published in New Zealand to coincide with Landy's visit to Auckland next week, Dark Days begins a whole new sequence.
"It's probably the most eagerly anticipated out of all the books because I ended the third one on a cliffhanger," he laughs. "It was the first time I've done that and I don't intend to do it again because it's really sadistic and mean. The amount of mail I've got because of it is completely unreal."
Landy's cinematic experience will stand him in good stead if Skulduggery Pleasant makes it all the way to the big screen - it has been optioned by Warner Brothers.
"They're basically looking for the next Harry Potter, another family-friendly franchise, but whether it becomes that is completely arbitrary," he says. "If it's good and it satisfies everyone, then we're in a good position. If not, it's back to the drawing board, as is always the way. But it's nice going from the small Irish films that I wrote to books that appeal to Hollywood."
Derek Landy will speak at Belmont Intermediate School, 188 Lake Rd, Belmont at 3.30pm on Monday March 29 and at King's School Auditorium, Remuera Rd, at 7pm.