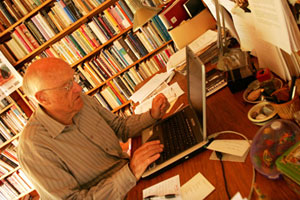 New Zealand writer CK Stead says he is feeling "fantastically well".
The 77-year-old has just added the inaugural Sunday Times EFG Private Bank Short Story Award to his considerable list of achievements.
Stead was presented with his £25,000 (NZ$52,635) prize, for his story Last Season's Man which was chosen the best of 1152 entries from published authors around the world.
Stead's short story unfolds in Croatia, where a young writer writes an article criticising a respected elder, bruising his ego and damaging his reputation among the intellectual community.
So, was Last Season's Man based on fact?
"There are elements of actual experience in it, and a lot of invention," he replied.
He said he set the story in Croatia, partly because it needed a strongly Catholic society to make it work, and partly because he had got to know the place and some of its people well.
The Auckland-based writer has played a defining role in New Zealand's literary scene for the last half century.
His poetry and fiction have consistently won awards and critical acclaim since the mid-1950s, and he was made a Companion of the British Empire in 1985 for his services to literature and made a member of the Order of New Zealand in 2007.
His 1964 critical work, The New Poetic, was widely lauded as a brilliant summation of modern English poetry, selling more than 100,000 copies.
A professor of English at Auckland University for two decades, Stead retired in 1984 to focus on his writing.
"The more you practise writing, the better you get at it," he said.
"You don't have the physical problems you do with tennis or golf or something like that.
"But ultimately, the time has to come when the brain isn't working so well, and hopefully someone will tell you it's time to stop - or you'll pick it up yourself.
"But it seems for the moment I haven't reached that point."
Last Season's Man will be published in England in the Sunday Times magazine tomorrow, followed by the works of the five other finalists: Will Cohu's Nothing but Grass; Joe Dunthorne's Critical Responses to My Last Relationship; An Elegy for Easterly, by Petina Gappah; Fewer Things, by Adam Marek; and David Vann's It's Not Yours.
What is next for New Zealand's leading man of letters?
First return from England and then write, he said.
"I have an idea for a new novel. But it's really early days, and whether it will develop into a full-fledged novel or not, I won't know until I've spent a lot more weeks with it."
- NZPA